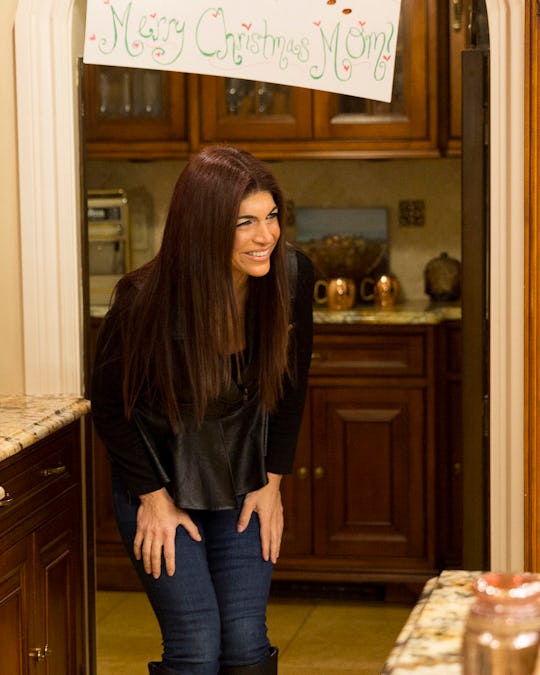 Greg Endries/Bravo
What Is Teresa Giudice's Net Worth? The 'Real Housewives' Star Is Back & Better Than Ever
Every Real Housewives fan in the world is waiting with baited breath for the return of The Real Housewives of New Jersey, and to get a glimpse at the life of a post-prison Teresa Giudice. What's her relationship with Jacqueline like these days? How are the girls doing? Does she even like these new 'Wives? And is she still unbelievably wealthy? What is Teresa Giudice's net worth after prison? She's definitely making the experience work for her. With a book deal, plenty of public appearances, and a pretty hefty raise from Bravo, Teresa has managed to monetize her prison stay in every way possible. If that's not making lemonade then I don't know what is.
Before her incarceration, Teresa's combined net worth with her husband Joe was estimated to be somewhere around $11 million. It's likely that this figure hasn't dropped much since Teresa was released. Immediately after her release she began doing public appearances, including on Entertainment Tonight and Watch What Happens Live. Though Andy Cohen denied that Teresa was paid anything for her WWHL appearance, she was reportedly paid $225,000 for a pre-prison interview with Cohen. Teresa is also bringing in some cash with her new book. Reportedly, she got a six-figure advance from Simon and Schuster for her book, Turning the Tables: From Housewife to Inmate and Back Again. The book was very successful, and became an almost immediate best-seller. It also looks like she's bringing in at least a few extra dollars with some sponsored Instagram posts.
With the appearances, the Instagram sponsors, and the best-selling memoir, Teresa is already doing pretty well for herself after her stay at Danbury (incidentally the same facility that housed Piper Kerman, the author of Orange Is The New Black). According to multiple reports, Teresa is being paid $1 million for this season of The Real Housewives of New Jersey, far above what her co-stars are making. In the end, it may even out, though, as she is required to pay 25 percent of her salary to the government and give up a Maserati in order to repay the over $400,000 restitution that she owes. While that definitely sucks, 75 percent of a million is still doing better than most of America, and certainly better than the overwhelming majority of Teresa's fellow inmates.