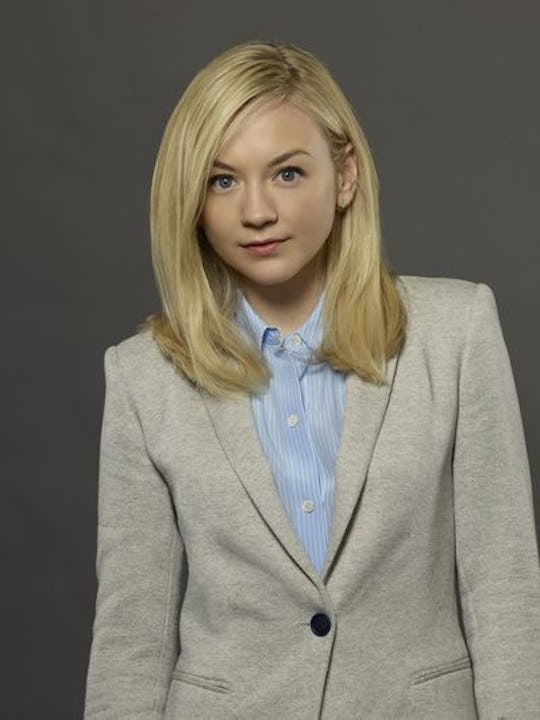 Bob D'Amico/ABC
What Is Tess's Backstory On 'Conviction'? She Knows Someone Who Was Wrongly Convicted
Conviction is ABC's newest show and it's giving me some serious Scandal vibes. If Hayley Atwell's character, Hayes Morrison, is Oliva Pope, then Tess Larson (Emily Kinney) is definitely Quinn. In the premiere episode Tess seems like the sweet and somewhat naive baby lawyer that wants to see the good in people and believe everyone the Conviction Integrity Unit (CIU) investigates was wrongly convicted. By the end of the episode, however, it becomes clear that there's a reason why Tess works for the CIU. So what is Tess' backstory on Conviction and why is she trying so hard to hide it?
When Hayes first meets Tess, she seems familiar to Hayes but Tess denies that they've ever met. Of course Hayes isn't easily fooled and discovers the truth. The reason Tess is so determined to help wrongly convicted people is because due to a witness testimony she gave the wrong man went to prison for her aunt's murder. It's unclear just how long ago this was or how long the man was in prison before his conviction was overturned. All we know so far is the whole situation clearly still bothers Tess but if the man was released from prison one has to wonder what's the problem?
When Maxine tries to do Tess a favor by finding the man and discovering that he has a job and is doing fine, Tess tells Maxine to mind her business, which is really strange. Wouldn't Tess be happy to know that the man she wrongly put into prison is now doing well despite her mistake? Or does Tess wish he was never released from prison for some reason? Whatever the case may be it's clear there's more to this story and Tess is definitely hiding something. It seems Tess isn't the sweet, naive woman she first appears to be.
Hayes has already warned Tess not to let her past and her feelings about her aunt's murder case get in the way of her job but it seems doubtful that Tess will be able to keep the two separate. It'll be interesting to learn more about Tess and just how much her aunt's murder changed her life.
You can see Tess and the rest of the CIU gang on Conviction, which airs on Mondays at 10 p.m. EST on ABC.