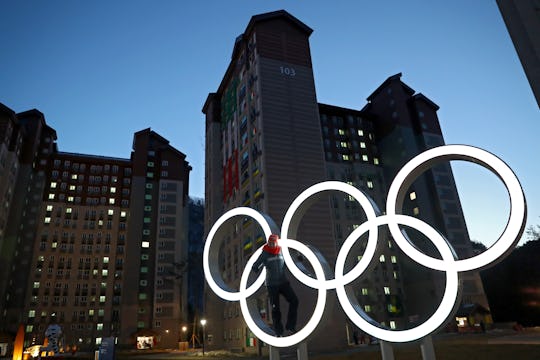 Alexander Hassenstein/Getty Images Sport/Getty Images
Here's What The 2018 Olympic Village In PyeongChang Is Like
For the athletes competing in the 2018 PyeongChang Winter Olympics, having the opportunity to actually represent your country on the world stage — and possibly walk away with an Olympic medal — is a dream come true. But even Olympic athletes need their downtime, and for most of them, that downtime takes place in the Olympic Village. Ever wondered what the 2018 Olympic Village is PyeongChang like? It's one of those things you probably can't truly appreciate unless you've been there, but from the sounds of it, staying at the Olympic Village is a big part of the experience (and it may or may not be one giant party).
First, the basics: according to the official 2018 PyeongChang Olympics website, there are two separate Olympic Villages, the PyeongChang Olympic Village in the mountains for alpine athletes, and the Gangneun Olympic Village on the coast for arena athletes. Both villages were completed in December, and athletes officially began arriving as of Feb. 1 — but they villages are far from just being a place to sleep. Facilities include state-of-the-art fitness centers, recreational centers, beauty salons, banks, post offices, general stores, laundry services, multi-faith worship centers, and expansive, 24-hour dining halls "that will cater to a wide range of cuisines and dietary requirements."
While the PyeongChang village is the larger of the two (it's comprised of eight, 15-story high-rise buildings, according to E! News), the Gangneun village has one particularly unique draw: a pop-up McDonalds where athletes can eat for free. The fast food restaurant has even been built in the shape of a McDonald's combo meal, according to Thrillist, and if previous Olympic Games are any indication, it's likely already a huge hit. At the 2008 Beijing Summer Olympics, for example, Jamaican Sprinter Usain Bolt ate approximately 1,000 McNuggets during his time at the games, according to TIME, while at the 2016 Summer Olympics in Rio, McDonald's actually had to institute a rule limiting athletes to limit to 20 free McDonald's items per order due to the overwhelming demand, according to The Washington Post.
As for the accommodations, E! News noted that teams are grouped together, with each country having its own private lounge. Each apartment apartments has a bathroom and basic furnishings, including double beds, desks, and TVs, and most athletes share with a roommate. Bigger-named athletes might get their own unit, though, or may even stay somewhere else entirely (according to E! News, Team USA alpine skiers Lindsey Vonn, Mikaela Shiffrin and Gus Kenworthy are some of the athletes who have skipped out on staying at the Olympic Village this year).
Given the high stakes nature of the Olympics — this is literally the pinnacle of many athletes' careers, after all — the number one focus is obviously to do well in competition. But the Olympic Village has also earned a reputation over the years for being a hot spot for post-event partying and hookups — so much so, in fact, that an estimated 110,000 free condoms will be given out in PyeongChang (about 37 condoms per athlete), according to Business Insider.
But it might not actually be as wild as it sounds: in a 2017 Reddit AMA, swimmer Jimmy Feigen, who represented Team USA in Rio, said the stories about rampant Olympic Village hookups are "blown out of proportion," and that "people mostly focus on their events rather than getting laid." But that doesn't mean the Olympics can't still be a great opportunity for a love connection. According to InStyle, gold medalist figure skater Kristi Yamaguchi actually met her husband, former Team USA hockey player Bret Hadican, at the Olympic Village at the 1992 Winter Games in Albertville, France.
One important addition to the Olympic Villages in PyeongChang this year though, courtesy of the Canadian Olympic team? Pride House, a dedicated safe space for LGBTQ athletes and fans. The first Olympic Pride House was established at the 2010 Vancouver Winter Olympics, according to The Huffington Post, and this year in PyeongChang, Team Canada's Pride House has become officially affiliated with the Canadian Olympic Committee for the first time ever.
Given that there are 13 openly LGBT athletes competing in PyeongChang — including Team USA figure skater Adam Rippon and Team USA freestyle skier Gus Kenworthy, who are now the first two openly gay men to ever compete for Team USA in the Olympics — that's a pretty big deal. But it's also especially noteworthy considering that, only four years ago, Russian officials denied requests for a Pride House at the 2014 Sochi Winter Olympics. According to The Huffington Post, Pride House provides the opportunity for athletes in PyeongChang to "view the competitions, experience the event with others, learn about LGBTIQ+ sport and homophobia in sport, and build a relationship with mainstream sport."
All in all, the Olympic Villages kind of sound like what you'd get if you mixed a small college campus and with a Walt Disney World theme park — plenty of fun attractions and cool amenities, and lots of young people looking to have a great time (while also trying to nab a gold medal). And since experiencing the Olympic Villages first-hand is something that the majority of people will never actually get to do? Well, it seems safe to say that it's probably a seriously memorable two weeks.