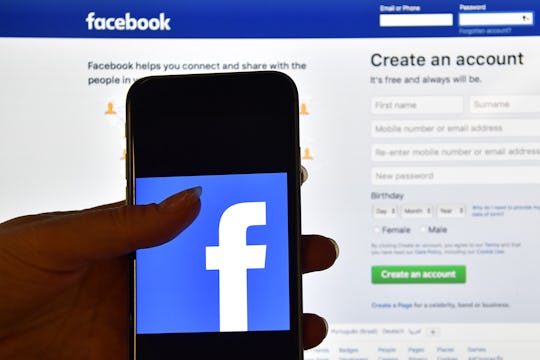 Carl Court/Getty Images News/Getty Images
The 48-Hour Challenge Is The Newest Terrifying Internet Game Every Parent Should Know About
If you think kids use Facebook just as a fun way to stay in touch with friends and family, think again. A new Facebook game that reportedly encourages teenagers to go missing for two days is spreading across Britain, leading to fear and confusion for parents there. But just what is the 48-hour Challenge, and how does it work? The dangerous new trend has parents terrified — and one of the worst parts is, the more their parents fear for them and share that fear on social media, the more "points" the kids get.
As part of the "game," kids as young as 14 are urged to run away and cut off all contact for two days, before they abruptly re-emerge, according to The Daily Mail. The young participants get a higher score every time they are mentioned, by anyone, on social media while they are missing. So any time a parent whose kid has gone missing posts on Facebook, for example, asking for people to share the status in order to spread the word, their kid — as the missing "player" of the "game" — receives points.
The idea is to see how many likes, comments, and shares a player can accumulate on Facebook while they're missing, according to WXYZ Detroit. The challenge started overseas, but parents here in the United States are being encouraged to talk to their kids about the dangers of the challenge just in case, according to FOX Carolina.
The latest "challenge" is extremely similar to the "Game of 72" from back in 2015, according to The Sun. As part of that "game," kids disappeared for 24, 48, or 72 hours, instead.
One mother in County Derry in Northern Ireland told Belfast Live when her child disappeared as part of the "challenge," they weren't found until 55 hours later in a totally different area. She reportedly said:
I was terrified they were dead or would be raped, trafficked or killed. But these kids just think it's funny. There was not even a moment of remorse when my child was taken into police custody and when the police brought my child home, I could see posts of selfies from the police car.
...It was just terrifying and my child, who is 14, doesn't seem to get it. They need a wake up call but I'm worried what that would be.
Unfortunately, this is not the first time a dangerous trend on social media has caught on with teenagers, or the public in general. Recently, another "game" called the duct tape challenge urged kids to wrap duct tape around someone's body and see how long it took for the person to escape, according to USA Today. This led to one child ending up with a crushed eye socket when he hurt himself trying to get free, according to The Independent.
Then there was the cinnamon challenge, which encouraged participants to eat a spoonful of cinnamon all at once. That little game posed serious health risks because of the coughing and choking it induced, according to The International Business Times.
Investigators say they're concerned this newest challenge could strain the already limited resources necessary to solve legitimate missing persons cases, according to WTSP-TV. In Florida, Hillsborough County Sheriff's Office Spokesman Larry McKinnon told the outlet that they should be helping kids who are actually missing. McKinnon, directing his message at participants, told WSTP-TV:
But now we're not doing that, because we're out there looking for you.
So what can parents in the United States do? First, they can spread the word: Tell as many people as possible about this "challenge," so they have an opportunity to talk with their kids before they even consider participating, law enforcement told WSTP-TV.
Of course, it's always important to talk to your kids and teenagers about how to safely use social media. But with a scary new trend like this making the rounds, it's more important than ever to make sure they know how to use it wisely.