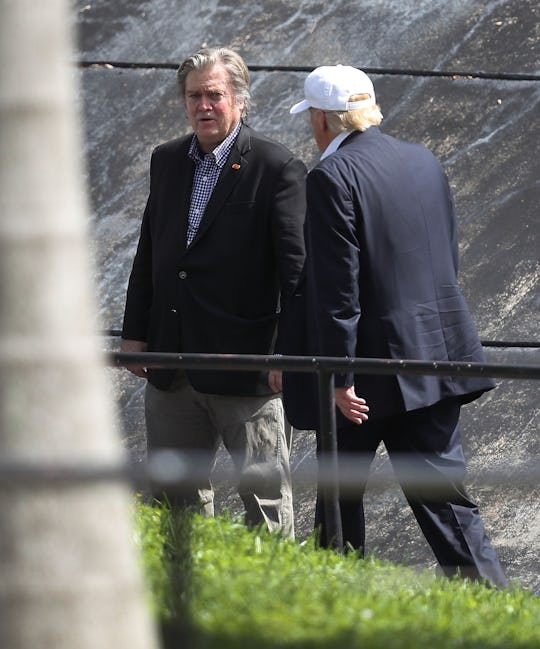 Joe Raedle/Getty Images News/Getty Images
What Is The Alt-Right? The Conservative Group Is Getting A Lot Of Attention
Over the past few months, the nation has become familiar with a new term — the alt-right. After it was announced that Steve Bannon would be President-elect Trump's chief strategist, many people started hearing the term at regular intervals, still without knowing too much about it. So what is the alt-right and what does it stand for? As we gear up for a very conservative United States presidency over the next four years, we might be hearing about the alt-right a lot more — so it's probably time we all try to at least get a grasp of what it means and why its followers feel the way they do.
For those who are a bit out of touch with conservative politics and don't know much about the alt-right, it is completely understandable. Established in 2008, the alt-right, which stands for "alternative right," is a movement made up of relatively like-minded people — but it's just now being widely reported on, thanks to Bannon's new position in the White House.
First, the basics. According to CBS News, the alt-right has a "large social media presence" (mainly on Twitter) and its followers are typically "young, white, and male." And while your very conservative relatives might have loved watching Fox News and reciting the words of conservative talk show host, Glenn Beck — the alt-right has its own conservative news source, according to CBS News — Breitbart (which was run by Bannon). Think of them as extreme conservatives who tend to support ideals even more far-fetched than Trump himself.
To put it in more honest wording, according to The Los Angeles Times, the alt-right is a "brand of far right conservatism that generally embraces and promotes white nationalism, racism, anti-Semitism, homophobia, transphobia, and misogyny." Or, according to CBS News, "a collection of racists, pick up artists, men's rights activists and other noxious trolls of the internet." Harsh, but true. According to the Anti-Defamation League, the alt-right has a "range of different ideologies" but ultimately, followers place "white identity" at the center of their focus. And they're a group that has such a strong following, they have their own language, according to The Los Angeles Times. This language consists of various slang terms used to describe themselves and the people who aren't a part of the alt-right.
Still, the term most commonly idealized among the alt-right in writing is "white nationalism." White nationalism is the theory that "non-whites are inferior" to whites, and its followers use racial slurs and sometimes call for violence against minority groups, according to the Southern Poverty Law Center.
It's a "loose movement" according to the Anti-Defamation League, a lot more hateful than your average conservative relative. And this sort of idealogical backlash has gotten so bad that Twitter recently announced a plan to suspend prominent alt-right Twitter accounts, in order to "curb hate speech and abuse," according to NPR. And it's not just Twitter feeling worried these days —even prominent conservative talk superstar Glenn Beck has denounced the alt-right, telling CNN host Anderson Cooper the movement is "truly terrifying."
With Steve Bannon now in the White House for the Trump administration, people might be hearing about the alt-right and its ideals for a lot more time to come — and no matter how worried everyone is feeling, it doesn't seem that it'll be going away any time soon.