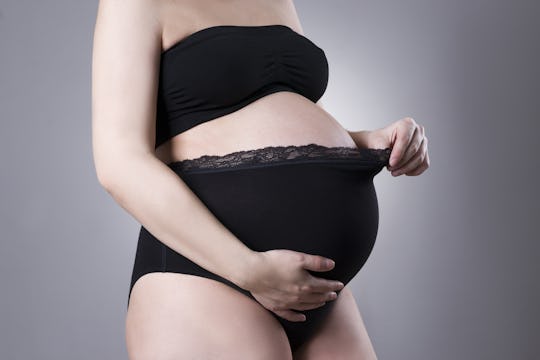 Fotolia
What Is The Best Underwear For Pregnancy? These Options Are Both Comfy & Cute
When you inevitably run out and buy a new maternity wardrobe for your growing bump, there's one item you absolutely shouldn't forget: pregnancy underwear. While some women are able to get through their pregnancies with their regular rotation of undergarments, others find themselves needing an upgrade. So, what is the best underwear for pregnancy? Turns out, thankfully, there are more than a few options that are not only comfortable and affordable, but damn cute, too.
The first thing you'll want to figure out is whether you're looking for under the bump styles (very low cut panties that'll sit below your stomach), or over the bump styles (which feature a high waistline that you'll pull up and over your stomach). Each style has its pros and cons, and only you can decide which one is right for you. Luckily, most of these styles are inexpensive enough that you can order a few different ones to compare.
Another thing you might want to consider is what your needs will be after you give birth. If you're having a C-section, for example, you might want to rock a high-waisted style that won't irritate your incision (massive granny panties were my savior after I had my daughter, for what it's worth).
Here are nine great options to choose from, no matter what style you're looking for.