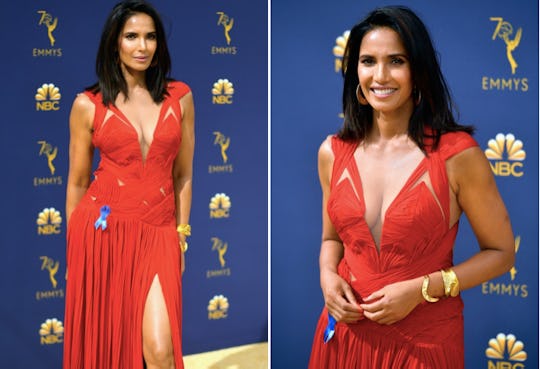 Matt Winkelmeyer/Getty Images Entertainment/Getty Images
Here's Why Celebs Are Donning A Blue Ribbon At The 2018 Emmy Awards
Ahead of the 2018 Emmy Awards, celebrities strutted their stuff on the red carpet in Los Angeles. Viewers checking out the live coverage probably noticed that many celebs were sporting a blue ribbon on their gorgeous dresses and tuxes. What they might not realize is these adornments have a specific meaning. So what is the blue ribbon at the 2018 Emmy Awards all about, anyway?
As E! News reported, this is actually a tradition that started last year during the 2017 Emmy Awards. And it's worn to show support for the American Civil Liberties Union (ACLU). These blue ribbons not only showed up last year at the Emmy Awards, but also at the Tony Awards and the Oscars, according to the publication.
"We have been incredibly heartened by the outpouring of support for the ACLU from the entertainment community at large as we band together to protect and defend the rights and civil liberties guaranteed by the U.S. Constitution for everyone in this country," ACLU chief communications officer, Michele Moore, told The Hollywood Reporter.
The blue ribbon is part of the ACLU's "Stand with ACLU" initiative. This campaign encourages stars to wear the ribbon, which shows they stand with the nonprofit organization that works to "defend and preserve the individual rights and liberties guaranteed by the Constitution and laws of the United States."
Last year, a surge of celebrity support for the ACLU stemmed from President Donald Trump's travel ban, according to The Telegraph. And for the 2017 Emmy Awards, specifically, the ACLU tweeted the ribbons were to show that stars were standing with the Dreamers, according to INSIDER. "Everyone wearing ACLU ribbons are doing so to call on Congress to pass a clean DREAM Act," the ACLU wrote on Twitter.
Last year at the Emmy Awards alone, a number of stars were sporting the meaningful blue ribbons, according to USA Today, including: Padma Lakshmi, Matt Walsh, Kathryn Hahn, Judith Light, Kumail Nanjiani, and Emily V. Gordon.
This time around, Padma Lakshmi was once again sporting a blue ribbon.
And so was Evan Rachel Wood! While speaking to Giuliana Rancic of E! News, Wood addressed her blue ribbon and why she decided to wear it at the 2018 Emmy Awards.
"I think we're at a crucial time in history right now, especially for women, and especially for civil rights," she said, according to HuffPost editor Saba Hamedy. "If I have even a little bit of power right now I want to use it for good."
Alexis Bledel also sported a blue ribbon on the red carpet leading up to the Emmy Awards.
Since the 2017 award season, there have (unfortunately) been many huge reasons to support the ACLU — one of them being the fact that families seeking asylum at the Mexico-U.S. border were being separated thanks to a "zero tolerance" policy enforced by the Trump administration (including very young children, who were detained in cages while their parents were prosecuted). Thankfully, this policy has been reversed and an end has been put to such separations, according to PBS. But the ACLU played (and continues to play) a major role in standing up for these migrant families — and any individuals who need their help.
As much as certain people believe that Hollywood should stay out of politics, I know I love seeing celebs' ACLU support while walking the red carpet. I mean, if they're already there getting photographed and interviewed about who/what they're wearing, then why not turn the conversation into something that's actually meaningful? Kudos to Lakshmi, Wood, Bledel, and to all of the other celebrities who rocked blue ribbons at the 2018 Emmy Awards.