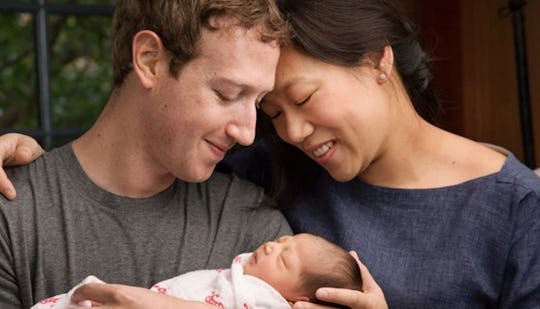 Mark Zuckerberg/Facebook
What Is The Chan Zuckerberg Initiative? Mark Zuckerberg's New Project Is Ambitious, But Not "Liked" By Everyone
On Tuesday, Mark Zuckerberg and his wife Priscilla Chan posted a letter on Facebook detailing their plan to give away almost all of their Facebook fortune. The funds will go to their new foundation, The Chan Zuckerberg Initiative, which aims to promote equality for all children. Over the course of their lives, 99 percent of their wealth will be funneled towards education, technology, and medical causes.
The letter is addressed to their newborn daughter, Max, and expresses a hope for the future, but also a call to action to make the world a better, healthier, more connected place by being more aggressive about the challenges we face today.
Today your mother and I are committing to spend our lives doing our small part to help solve these challenges. I will continue to serve as Facebook's CEO for many, many years to come, but these issues are too important to wait until you or we are older to begin this work. By starting at a young age, we hope to see compounding benefits throughout our lives.
As you begin the next generation of the Chan Zuckerberg family, we also begin the Chan Zuckerberg Initiative to join people across the world to advance human potential and promote equality for all children in the next generation. Our initial areas of focus will be personalized learning, curing disease, connecting people and building strong communities.
We will give 99% of our Facebook shares -- currently about $45 billion -- during our lives to advance this mission. We know this is a small contribution compared to all the resources and talents of those already working on these issues. But we want to do what we can, working alongside many others.
Mark Zuckerberg has a strong history of philanthropy, with notable donations made to the Centers for Disease Control for their efforts against Ebola, as well as the infamous $100 million donated to Newark, New Jersey Public Schools.
Overall, the move is being lauded for its sincerity, far-sightedness, and generosity, but not everyone is so taken with Zuckerberg and Chan's plans for the funding. Their letter mentions the goal of supporting personalized learning, an education method that's become popular among the tech scene for its integration of streamlined, specialized learning and technological innovation. It builds on the belief that our broad-based school curriculum has become obsolete in the changing global economy. The people speaking out against it? Teachers. Emily Talmage, one of the most vocal, calls personalized learning reductive, a "bastardization," and "a far cry from the type of education" Zuckerberg himself received. Time will tell how this brewing battle plays out.
A new baby, a new initiative, a new future — it's an exciting announcement, to be sure. One thing I don't think anyone would call controversial is how cute little Max is. That, we can all agree on.
Image: Mark Zuckerberg/Facebook