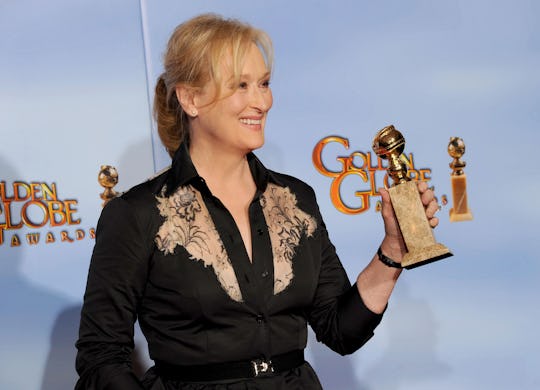 Kevin Winter/Getty Images Entertainment/Getty Images
Meryl Streep Urges Support For Journalists
During an acceptance speech for her Cecil B. DeMille Lifetime Achievement Award at the Golden Globes, Meryl Streep offered an amazing critique of President-elect Donald Trump — and she never even said Trump's name. In the middle of her speech, she also mentioned that she and other people with power like her need to make an effort to support and protect journalists throughout the next few years so that journalists can hold Trump and his administration accountable. Specifically, Streep urged her fellow actors and others to support the Committee to Protect Journalists? What is the Committee to Protect Journalists? According to its website, CPJ is "an independent, nonprofit organization that promotes press freedom worldwide," and it needs support.
During a rally in February 2016 (yes, that's how long we have known about this particular Trump statement), Trump said he was going to change libel laws. Libel is written defamation that hurts someone's character or ability to make money. Public figures, like Trump, have a hard time suing news organizations for libel because the things Trump does matter to the public and have consequences, thus most critiques of him by journalists are legally protected (specifically, when the critiques are about true, real things he has said).
Trump said this about libel laws, according to Politico:
One of the things I'm going to do if I win, and I hope we do and we're certainly leading. I'm going to open up our libel laws so when they write purposely negative and horrible and false articles, we can sue them and win lots of money. We're going to open up those libel laws. So when The New York Times writes a hit piece which is a total disgrace or when The Washington Post, which is there for other reasons, writes a hit piece, we can sue them and win money instead of having no chance of winning because they're totally protected.
During her speech, Streep said that it's up to the press to hold Trump accountable, because if he comes through on creating a national Muslim registry, or banning Muslims from entering the country, or deporting millions of undocumented immigrants, it will be up to the press to reveal the consequences of those decisions. And if Trump does try to change libel laws so that the press cannot report the negative effects of his policy decisions — even if those negative things are true — then we have a huge problem. Press censorship is linked directly to a lack of government transparency, and even to government secrecy.
If you want to donate to the Committee to Protect Journalists (do it for Meryl!), visit this link. Streep took her platform and used it for an important message that we all should heed.