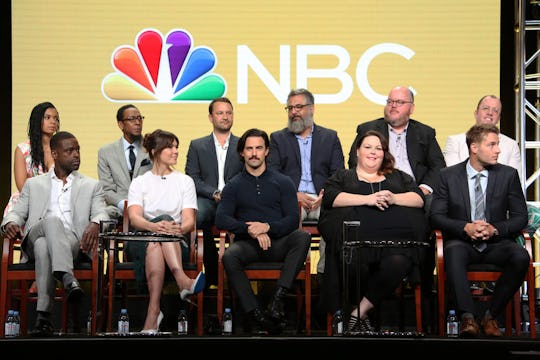 Evans Vestal Ward/NBCUniversal
What Is The Connection In 'This Is Us'? The Characters Share An Important Day
Lately it has begun to feel like every show on television has a hook: some unique premise or concept that sets it apart from every other show. There are shows that take great advantage of that and some that end up being all concept and no substance, but either way that trend has been dominating TV for years. At first glance, NBC's upcoming dramedy This Is Us feels like a throwback to the days of thirtysomething; it's just a show about people living their lives, seemingly without a hook in sight. But while it's not high concept, there is something that connects the characters on the show, giving This Is Us its own unique spin. But what is the connection in This Is Us?
There are at least six characters in the show's main ensemble, but something special links some of them together: they share the same birthday. When the pilot begins, all of these characters are turning thirty-six and setting off on major life journeys. Milo Ventimiglia's Jack is about to have triplets with his wife Rebecca, played by Mandy Moore. Randall (Sterling K. Brown) is looking to reunite with his birth father, having been abandoned at a fire station when he was a baby. Kate (Chrissy Metz) is struggling with body image issues and Kevin (Justin Hartley) is dissatisfied with the emptiness of his sitcom star lifestyle.
Series creator Dan Fogelman originally intended This Is Us to be a film, but found he had too much he wanted to do with the characters. He took inspiration from films like Terms of Endearment but was mostly inspired by his own life, as he was facing many of the same milestones the characters ended up dealing with. In an interview with The Huffington Post, Fogelman said, "We have a lot of heavy, weighty or dark stuff in our high-end entertainment these days. I think with everything going on in the world, maybe it's a good time for a show with heart and some humor that is just about people."
Though the show will handle a myriad of serious issues, Fogelman seems intent upon creating a show that makes people feel good. "I've been given this great opportunity to make television and films and I'm not interested in making something that makes someone feel shittier than when they walked into the movie theater or turned on the television," he said.
Though their birthdays connect the characters to each other, that isn't the most important detail of the series. It looks like it will be about forging connections in other, deeper ways: with your family, with your significant other, with the people who love you.