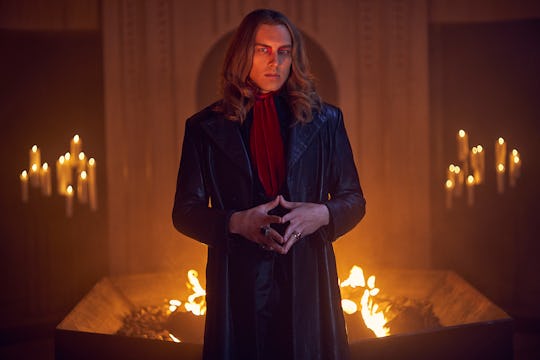 Kurt Iswarienko/FX
The Cooperative Could Have A Magical Origin On 'AHS: Apocalypse'
When the world ended on American Horror Story: Apocalypse, there was only one place to go. A group of strangers found themselves seeking shelter in an underground bunker called Outpost 3. Some of them had bought their way in, but others were handpicked by the Cooperative, the company who runs the safe house. But wait — what is the Cooperative on AHS: Apocalypse?
Unfortunately, the Cooperative is a big question mark at the moment. The group must be incredibly wealthy because they were able to set up bunkers and stock them with supplies, as well as employ staff to oversee each outpost. They're also powerful. They tracked down Timothy Campbell based on something special in his DNA and sent armed guards to drag him from his home before bombs hit Los Angeles. They forced him to take his place in Outpost 3, demonstrating that they're capable of exerting a great deal of control over others. That was further proven by the strict hierarchy they set up in the outposts where the elite wear purple and the workers wear gray. Though the Cooperative is mostly unseen and unheard, they're intimidating enough that the survivors go along with this without question.
According to Wilhelmina Venable, the woman running Outpost 3 for the Cooperative, there are twelve members in total who are determined to save humanity. But by the end of Episode 1, only one of the twelve had introduced himself.
Though Venable looks after the daily management of the outpost, she lost contact with her bosses early on in the apocalypse. She decided to go rogue until an agent of the Cooperative named Michael Langdon arrived to judge if the survivors were worthy enough to be transported to a much more comfortable shelter. Michael was first introduced back in Season 1, though he hadn't yet become the ominous, bewigged figure of Season 8. He was just a baby then, but he had a lot of promise: a psychic prophecy claimed that he was the Antichrist because his mother was a human and his father was a ghost.
The Cooperative has money and influence, but they operate under near-total secrecy. However, that hasn't stopped fans from speculating about who might be behind it all. One theory is that the Cooperative is run by the witches from Coven, who are all set to reappear in Season 8. They do have a lot of power at their disposal, plus they already have an authoritarian group in place to carry out their laws: the witches' council and the Cooperative don't sound entirely dissimilar. Timothy's special DNA could be a clue as well; perhaps the witches are trying to identify those who carry magical genes so they can assure the survival of their people.
The witches' council was also fond of putting people through tests and trials to determine their worth, which is exactly what Michael will be doing with the people of Outpost 3. Thrillist pointed out that Michael could be a witch on top of being the Antichrist, because his distant relative Mimi DeLongpre was once the Supreme. In the trailer for Season 8, Michael was shown demonstrating his otherworldly abilities for a panel of judges that looked a lot like Season 3's witches' council. There's a chance the council is the Cooperative using a different name to conceal their true identities.
But that's just one theory. Only a single episode has aired so far, which means there are a lot of possibilities and limited evidence to support them. It may seem plausible for the witches to be pulling the strings, but right now the Cooperative remains as mystifying as ever.