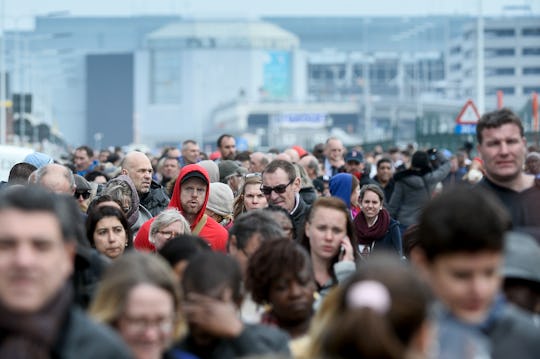 DIRK WAEM/AFP/Getty Images
What Is The Death Toll In The Brussels Attacks? The Estimate Is Devastating
There were three explosions that ripped through Brussels early Tuesday morning — one in the Maelbeek metro station and two at Zaventem Airport. Although officials have not confirmed a death toll in the Brussels attacks, Brussels Metro Authority reported that 20 people died at the metro station and the public broadcaster VRT reports 14 have died due to the two airport explosions, for a combined estimation of 34 people dead. CNN also reports that the suicide attack has left more than 170 injured at the metro station and airport combined. Update: ISIS has claimed responsibility for the terror attacks in Brussels Tuesday.
As of now, NBC News is reporting that at least one, if not multiple, suicide bombers were involved in the attack. The metro stations have been closed and all of the flights coming out of Brussels have been canceled due to the attacks. BBC reports that "key transport locations in Paris, London, New York and elsewhere" have increased security.
The attack comes just a week after the arrest of Salah Abdeslam, the fugitive suspected for the Paris bombings in November. There has been no official announcement whether the Brussels attack is related to the arrest of Abdeslam.
According to BBC, there were two explosions at the airport. The explosions are thought to have been at "opposite ends of the check-in area" of the airport's check-in area. The explosion at the metro station came just over an hour after the initial blasts. BBC reports that the three-carriage train was leaving the station when the explosion happened, reportedly in the middle car.
The death count reported is, unfortunately, just an estimated number at the time. The death toll will continue to be updated throughout the day.
More information to come...