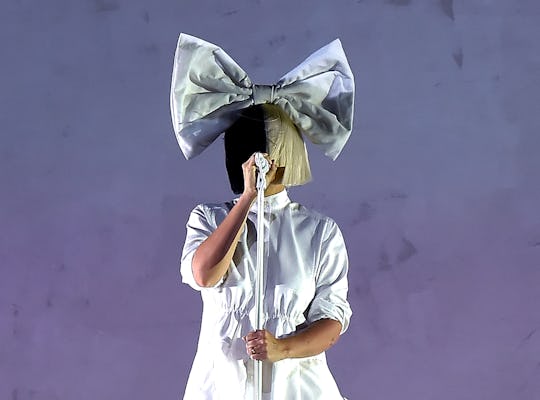 Kevin Winter/Getty Images Entertainment/Getty Images
What Is The End Credit Song In 'Finding Dory'? It's Unforgettable
Finding Dory opens today in theaters, and if you go see it, don't leave as soon as the lights come up. Stick around for the end credits and you won't be disappointed. The film closes with a beautiful, lulling tune that may sound familiar. What is the end credit song in Finding Dory? It's Sia's own rendition of Nat King Cole's 1950s classic, "Unforgettable."
Usually, Pixar films end in upbeat tunes, but the team decided to go with something much more subdued this time, and the effect is magical. After the emotional rollercoaster that is Dory's search for her family, Sia's haunting voice brings it all together and allows viewers to reflect on the power of love, the bonds of family, and the importance of acceptance. Though Finding Dory is an upbeat film, and Dory herself is bubbly fish, the song's low-key melody feels appropriate. In classic Sia fashion, even though the song is slow, it builds to an emotional peak and lends new meaning to the lyrics. During the chorus, Sia sings:
Unforgettable / That's what you are / Unforgettable / Tho' near or far / Like a song of love that clings to me/ How the thought of you does / things to me / Never before / Has someone been more / Unforgettable
It's clear from the people (ahem, sea creatures) who help Dory along her way that she is, in fact, unforgettable, despite being incredibly forgetful. Dory is unforgettable to audiences, as well. Though she started as a supporting character 13 years ago when Finding Nemo came out in theaters, she's proving to be a strong enough personality to carry a film all her own as its star. Despite the years that have passed since Finding Nemo made its fish-cast famous, fans are clamoring to see them on the big screen once again. In fact, according to the Los Angeles Times, the film is set to break opening weekend records for animated films. It's expected to make $120 million in ticket sales by this Sunday. That's pretty unforgettable.
According to E! Online, the brains behind Dory played a major role in selecting the Sia tune. Dory is voiced by the inimitable Ellen DeGeneres and the comedian reportedly asked Sia herself to record a cover of the Nat King Cole song for the film. Sia performed the song on The Ellen Show, and while being interviewed, she admitted that she felt compelled to join the project. She told the audience that after DeGeneres approached her, she felt drawn to Dory. She said, "Dory's story makes me teary. When Ellen asked me, I couldn't refuse."
Sia appeared on The Ellen Show in her trademark wig, and to promote the Finding Dory soundtrack, Dory donned the half-blonde, half-black wig in a hilarious, high-fashion photo. It's an edgy look, but Dory pulls it off pretty well. Finding Dory opened in theaters today across the United States.