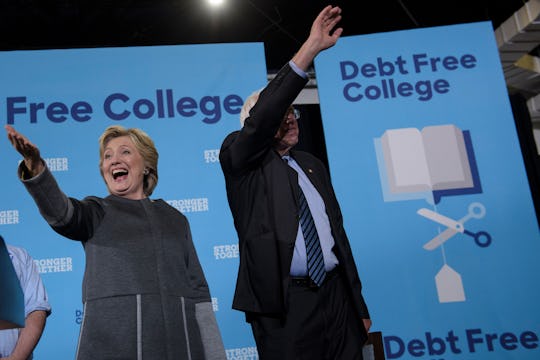 BRENDAN SMIALOWSKI/AFP/Getty Images
What Is The FEC Deadline On Sept. 30? Campaigns Don't Have Much Time Left To Raise Money
In this 2016 presidential election, if you support either the Republican or Democratic Party (or have in the past) you're bound to get hundreds of emails. It seems like every day I have an email from someone begging me for money to support their political party. But why are the parties begging me for money when I consider a grande pumpkin spice latte from Starbucks a splurge? Political parties have been pushing extra hard for money of late because of a looming FEC deadline. Of course, if you're not up to date on all the political jargon or aren't quite sure of all the technical terms, then you're probably wondering what is the FEC deadline on Sept. 30 and why it matters so much.
First and foremost, a little background: The job of the FEC (or Federal Elections Committee) is to govern the finance portion of federal elections. It monitors where the money for each candidate and party comes from and makes sure that no laws are being broken when it comes to candidate donations. Most importantly, the FEC keeps files on how much money each candidate has brought in altogether — ensuring financial transparency throughout the presidential elections.
The last FEC deadline is critical to the 2016 presidential election: That Sept. 30 deadline marks the end of a filing quarter and is the last day that candidates have to raise money before filing their overall fundraising totals. This upcoming deadline is imperative, because, at the end of the deadline, a strong financial backing for one candidate typically means that their supporters believe in them and want to carry them all the way to the White House. Think of this upcoming FEC deadline as an added level of competition between Republican Party nominee Donald Trump and Democratic Party nominee Hillary Clinton, or a a last-minute mile marker, indicating how much cash they have to burn on, well, burns (or at least a few big ads).
More money raised by the deadline also generally makes a candidate look more stable compared to their opponents, and can give a candidate something to brag about — especially if their polling numbers or debate performances say otherwise. It might be hard to believe that both parties are begging for money when one candidate brags about his "tremendous income" and the other has essentially been rolling in dough for a good chunk of the election, but the FEC deadline is all about the visual numbers game — not about personal wealth.
According to Fortune, for example, Trump has reportedly claimed to have raised $18 million in 24 hours after his debate performance on Monday. This is pretty great considering how close this quarter's deadline is. But Clinton has been at a slight fundraising advantage over Trump during this election season, and according to the FEC, since August 31, Clinton has raised a whopping $373.3 million dollars this election season. In comparison Trump has raised around $165.9 million dollars this election season.
According to his campaign's website, the Trump campaign is looking to raise $20 million before the deadline on Friday and Trump will be matching the donations up to $2 million. Clinton is also asking supporters for money (this, based on all of the emails I receive in my inbox each day).
If candidates don't file their fundraising numbers on time, they face the consequence of having to pay a small fine. However, with Trump's reported boost in donations for this quarter and Clinton's already-established major donation advantage, both candidates seem to be in very good places. Until Sept. 30, it seems both major presidential candidates — and all political parties in the running — will be diving headfirst into the inboxes of United States voters in a last ditch effort for some cold hard cash.