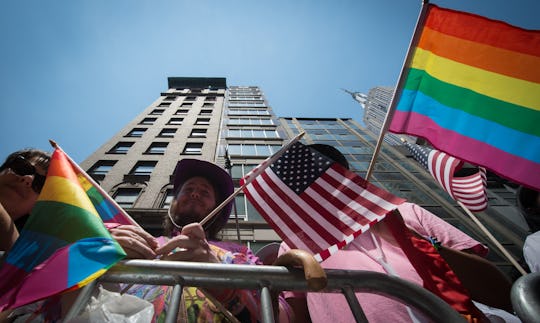 BRYAN R. SMITH/AFP/Getty Images
First Amendment Defense Act Is A Disaster For LGBTQ Citizens
There are many reasons that the LGBTQ community is apprehensive about the incoming administration, but one of them is the idea that the First Amendment Defense Act, or FADA, might be reintroduced. The bill barely made it through the House back in 2015, but now that there is a Republican-backed Congress, it might have more luck passing. If that happens, it would be a disaster for the LGBTQ community.
But many Republicans are looking forward to it, including President-elect Donald Tump. He said on the campaign trail that FADA would "protect the deeply held religious beliefs of Catholics and the beliefs of Americans of all faiths." Ironically, the act is named after the First Amendment, but it's more about giving businesses the right to discriminate.
FADA restricts the federal government from acting against any institution that discriminates against LGBTQ people under the grounds that "marriage is or should be recognized as the union of one man and one woman" and that "sexual relations are properly reserved to such a marriage." Even though same sex marriage was made lawful by the Supreme Court last year, all of the protections when it comes to anti-discrimination in terms of housing, health, education, and employment would essentially be unenforceable.
So, for example, the government couldn't intervene if a hospital won't allow a same sex couple in to see each other or force a landlord to rent to a gay couple. It also wouldn't be able to withhold federal funding from a business or institution as a way to punish them for discriminatory laws. Just like the Justice Department did with North Carolina universities over HB2, or the transgender bathroom law there this year. For the record, that withholding of funds was one of the catalysts to a special session of the state legislature to repeal the controversial law.
FADA would take away the government's ability to protect LGBTQ citizens when states or institutions discriminate. It would also, if strictly interpreted, allow discrimination of anyone who's ever had sex out of marriage. Weird, right?
Utah Sen. Mike Lee's spokesperson told BuzzFeed earlier this month that he was "looking forward" to reintroducing the bill and happy that Trump supported it.
Texas Sen. Ted Cruz is ready to pass the bill, too. He told BuzzFeed, "The prospects for protecting religious freedom are brighter now than they have been in a long time. We are having ongoing conversations with our colleagues both in Congress and leaders in the new administration about a multitude of ways we can honor the commitment made to the voters in this last election."
When the bill was introduced in 2015, it had 170 sponsors, but there was a lot of debate about whether President Obama would veto it or not. With Trump, given his support for FADA on the campaign trail, it's likely that won't be an issue. Unless, of course, Trump was being more supportive of the bill to get elected and would soften once in office. No one will know until he gets into the White House and the GOP begins bringing him things to sign.
When they bring FADA to him, it's bound to be controversial. So it's probably better to read up now and figure out where you stand.