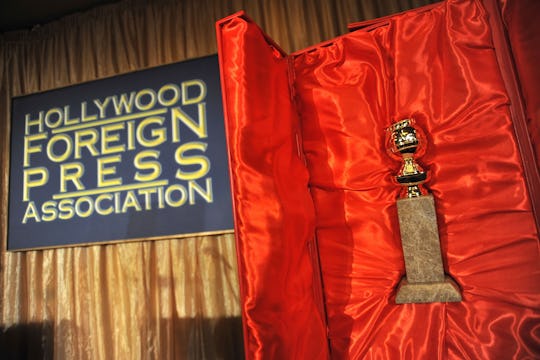 What Is The Hollywood Foreign Press Association? Hard To Get Into, For Starters
Who's ready for awards season? The 2016 Golden Globes nominations will be released Thursday honoring outstanding achievements in television and film. Given annually, the awards honor both domestic and foreign productions, but unlike the Oscars or Emmy Awards, the "voters" are limited to a very small group of individuals: the Hollywood Foreign Press. So what is the Hollywood Foreign Press Association (HFPA)?
In short, the Hollywood Foreign Press is a non-profit organization of journalists and photographers that report on the entertainment industry. While they work for various outlets — i.e. print publications, like a newspaper or magazine, television or in radio broadcasting — they are not actors or producers or directors or cinematographers, and most members work outside the United States. (Currently, the Hollywood Foreign Press consists of about 90 members from approximately 55 countries.) In order to become a member of the Hollywood Foreign Press one must be 1) currently accredited by the Motion Picture Association of America, 2) they must submit clippings of their work every year to renew their "Active" status, 3) they must have a primary residence in Southern California, and 4) they can publish no less than four articles per year. And while the Hollywood Foreign Press accepts new member applications every February and March, the process is highly competitive — as the HFPA only accepts a maximum of five new members each year.
But the Hollywood Foreign Press are more than just the men and women behind one of the entertainment industry's biggest award shows. According to the official website, the non-profit organization is responsible for donating "more than $21.6 million in the past twenty-seven years to entertainment-related charities, as well as funding scholarships and other programs for future film and television professionals."
The Hollywood Foreign Press formed in 1943, and on Jan. 10, 2016 they will host their 73rd Golden Globes award ceremony.
Image: Frazer Harrison/Getty Images, Giphy