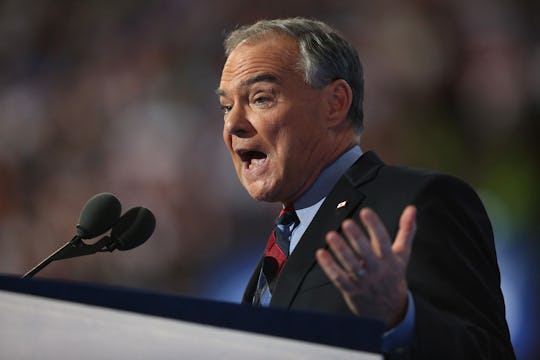 Joe Raedle/Getty Images News/Getty Images
What Is The Hyde Amendment? Tim Kaine's Support Sends A Mixed Message About Women's Rights
With both the Republican and Democratic parties' tickets officially named for this year's presidential election, both sides are already hitting the campaign trail hard as both presidential and vice presidential candidates take to the airwaves. On Sunday, Democratic vice presidential nominee Tim Kaine appeared on CNN's State of the Union in an interview with CNN host Jake Tapper. Kaine told Tapper, "My voting position on abortion hasn't really changed. I support the Hyde Amendment. I haven't changed that." So what is the Hyde Amendment — and what has made it so controversial over the years?
The Hyde Amendment prevents the use of any federal funds to pay for an abortion procedure and has been around since 1976: basically, taxpayers' monies can't fund abortions. What makes Tim Kaine's support of the Hyde Amendment so controversial is that his stance is in direct opposition to that of his running mate's, former Secretary of State Hillary Clinton — and his party. Clinton has promised to repeal the Hyde Amendment if elected president, and the Democratic platform has even included repealing the Hyde Amendment as one of its planks at this year's Democratic National Convention. Kaine's abrupt 180 on both Clinton's stance and a key party plank could be troublesome for the Democratic ticket.
The Hyde Amendment has often been dubbed a legislative "rider," as it's not a separate bill in and of itself; rather, it's tacked onto to previously existing legislation — typically appropriations bills. The Hyde Amendment was introduced by Illinois Representative Henry Hyde, just three years after a woman's right to choose became law of the land with the Supreme Court decision in Roe v. Wade. After such a defeat in Roe v. Wade, the anti-choice movement at the time saw the Hyde Amendment as a key victory for its cause. Since 1976, the Hyde Amendment has been renewed every year in some shape or form.
The Hyde Amendment was dangerously restrictive. From 1981 to 1993, the language of the amendment stated that federal funds could not be used for abortions "except where the life of the mother would be endangered if the fetus were carried to term." It wasn't until 1993 that then-President Bill Clinton would sign into law an act that included expanded language to the Hyde Amendment, allowing taxpayer monies to be used on abortions in cases of rape of incest.
Now, here's where it gets problematic for Kaine and the Clinton campaign. Previously, it was reported that Kaine supported repealing the Hyde Amendment, as recently as July 24 on CNN's State of the Union. Robby Mook, Clinton's campaign manager, told Tapper:
And he [Kaine] has said that he will stand with Secretary Clinton to defend a woman's right to choose, to repeal the Hyde amendment. So, you know, voters can be 100 percent confident that Tim Kaine is going to fight to protect a woman's right to choose.
Two days later, Deputy National Press Secretary and Senior Spokesperson for Clinton, Jesse Ferguson, told CNN Senior Producer Teddy Davis that Kaine's commitment to support Clinton's intent to repeal the Hyde Amendment "was made privately."
On the issue of abortion, the former governor of Virginia has had a fraught history: As a vocal and proud Catholic, Kaine is personally against abortion on the basis of his faith. However, according to the website On The Issues, Kaine stated on his 2012 campaign website that: "I strongly support the right of women to make their own health and reproductive decisions and, for that reason, will oppose efforts to weaken or subvert the basic holding of Roe v. Wade."
This kind of flip flopping on the issues does not look good for the Clinton campaign, alluding that either someone has gone off-message on the party platform, or that there's been miscommunication between the two. That said, it's important to remember that Kaine's stance on abortion is far more nuanced and has genuinely evolved over the years. While it remains to be seen exactly how Kaine's comments might impact the Clinton campaign in the coming days and weeks, there's no denying that his support of the Hyde Amendment has caused a ripple of scrutiny from Democratic voters.