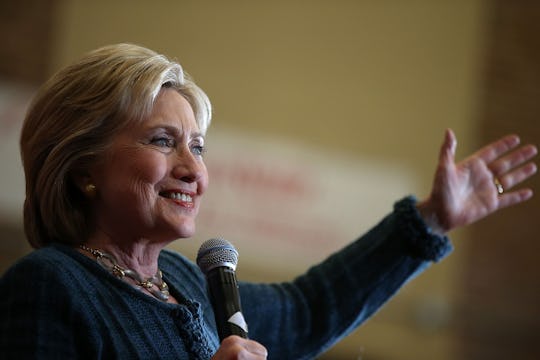 Justin Sullivan/Getty Images News
What Is The Iowa Caucus? It's Not Simple, But It's Important
Soon we will know if The Donald's bombastic rhetoric and Vermont Sen. Bernie Sanders' anti-establishment platform resonated with voters. No, it isn't another debate — the Iowa caucuses are quickly approaching and it's the first indication candidates will get on how they're actually received by the public. But if you're not a political junkie, it's understandable if you don't know what the Iowa caucuses are and why they're important.
For starters, it's worth knowing that the Iowa caucus go down Monday — making it the first caucus of the 2016 election. But it's also important to note that the Iowa caucus is not a primary. On Monday, Iowans will gather in one of the public places designated by their party's precinct, according to the Daily Dot. But, what's confusing is that voters aren't voting for a candidate directly. Instead, Republicans and Democrats will vote "to send delegates on their preferred candidate's behalf to the national conventions," according to the Daily Dot.
If you still don't understand, you're definitely not alone. And you'll be less than thrilled to know that it gets more convoluted because the process varies by party.
For Republicans, what transpires is pretty straightforward. Attendees will vote with a secret ballot after hearing candidates' representatives make their case. The Democratic caucus is the definition of complex, however. Voters will be put in groups based on the candidate they support. From there, if a candidate doesn't get at least 15 percent of voters behind him or her, then all of those supporters are "released," and "caucus captains" then lobby to get those supporters to back candidates who survived the 15 percent threshold, The Washington Post reported.
Once votes are finalized, the party determines how many delegates will go to each candidate. Welcome to Democracy.
But if this explanation is unclear, the Daily Dot offers a hypothetical situation that provides a better idea of how all this goes on:
If there are 40 Clinton supporters, 30 Sanders supporters, and 10 O'Malley supporters at your caucus site, the 10 O'Malley supporters that fall below the night's threshold will have to disband and join either one of the two other groups of supporters.
If you're a Republican, you will voice your preference for a presidential nominee on a written ballot. Results are then tabulated and sent to each party and reported to the media.
So why exactly is the Iowa caucus so important? Fortunately there is a simple answer: it's because it has often predicted who the presidential nominee will be. According to Vox, (with the exception of one time) nominees who clinched the presidential nomination won the Iowa caucus, New Hampshire primary (on Feb. 9), or both. And the last two presidents, current President Barack Obama and former President George W. Bush were victorious in Iowa.
And the reason why it's influential is circular. Simply put, U.S. citizens — who have a hand in the way these things go — use the results as an indication of who can win. This leads to voters and donors making the results more relevant than they already are. A landslide could lead to donors and voters putting their support behind an unlikely candidate, giving them unprecedented momentum — just ask Obama.