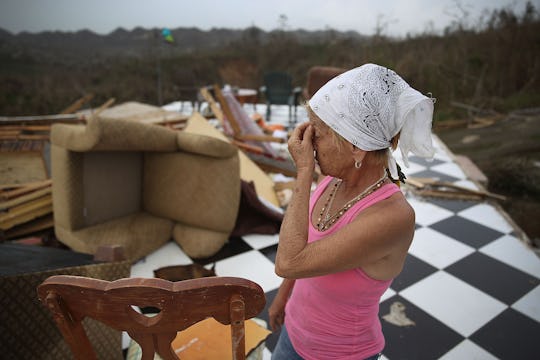 Joe Raedle/Getty Images News/Getty Images
Here's What You Need To Know About The Jones Act
It's been eight days since Hurricane Maria made landfall over Puerto Rico as a Category 4 storm. The U.S. island territory was pummeled by life-threatening winds and massive rainfall and flooding, leaving Puerto Rico facing perhaps its greatest humanitarian crisis yet. Residents of Puerto Rico — U.S. citizens on American soil — have little access to clean water, electricity, or cell phone signal. With nearly 1,200 miles between Puerto Rico and the American mainland at its closest point, transporting both relief workers and supplies has been an arduous task — but now Puerto Rico can finally start getting more of the help it needs as the White House announced it was lifting the Jones Act, effective immediately. So, what is the Jones Act?
The Jones Act goes all the way back to 1920, just three years after Puerto Ricans were made U.S. citizens by President Woodrow Wilson via the Jones-Shafroth Act (separate from the Jones Act). It is an exceptionally outdated law that pertains to shipping regulations between American ports. The spirit of the law was to protect the American commercial shipping industry following World War I. Unfortunately, it's the letter of the law in the Jones Act that's stopping desperately needed disaster relief from getting to Puerto Rico.
Here's where the nearly century-old regulation is particularly infuriating: The Jones Act, also called the Merchant Marine Act of 1920, stipulates that that all goods that are shipped between American ports must be on ships that are not only built in America, but owned by Americans. The kicker? Even the crew must be American, either as U.S. citizens or permanent residents.
Puerto Rico is a U.S. territory, thus making its capital of San Juan an American port — which means if the United States wants to help out by sending relief workers and supplies on boats to Puerto Rico, they are sh*t out of luck if no American-owned, built, and crewed ships are available, or worse, if they're simply too expensive to contract — which is exactly what has happened in the wake of Hurricane Maria.
But before you start getting ready to high five Trump, there are a few important points to consider. First, the Jones Act has contributed to Puerto Rico's economic collapse, according to Vox. Because Puerto Ricans must use U.S. flagged and crewed ships, there's virtually no competition between commercial shipping companies, which drives up the cost of shipping goods to and from Puerto Rico to anywhere else in the United States. As such, Puerto Ricans pay almost twice as much as their mainland U.S. citizen counterparts for anything brought to the island by boat. As such, Vox notes, the cost of living on the island has been driven up to unsustainable levels. In May, Puerto Rico declared bankruptcy.
So, if the problem is all about boats, why not just send planes in to Puerto Rico? The San Juan International Airport is without power, like the rest of the island. It's currently operating on generators as people trying to flee the devastated island wait for planes to take them out. And, given the amount of supplies that are needed — as well as heavy construction equipment to move rubble and downed trees — some supplies just won't fit on a plane.
On Wednesday, Puerto Rico Gov. Ricardo Rossello petitioned the White House for a temporary waiver of the Jones Act, which was granted on Thursday. This isn't the first time that the Jones Act has been waived temporarily: It was waived following the devastation of Hurricane Katrina in 2005 and super storm Sandy in 2012, and as recently as earlier this month for both Hurricanes Harvey and Irma, which hit Texas and Florida, respectively. Last time I checked, U.S. citizens are U.S. citizens no matter where they are, be it Houston, Tampa, or San Juan.
It's important to remember that the Jones Act waiver will only last for the next 10 days — but recovery from Hurricane Maria could take Puerto Rico months. What will help Puerto Ricans the most right now, and for the long term, is a complete repeal of the Jones Act entirely.
Watch Romper's new video series, Romper's Doula Diaries:
Check out the entire Romper's Doula Diaries series and other videos on Facebook and the Bustle app across Apple TV, Roku, and Amazon Fire TV.