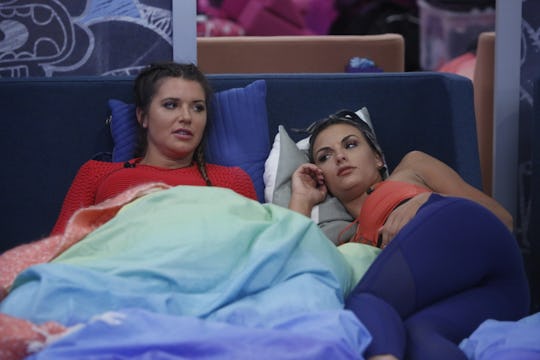 Monty Brinton/CBS
The Level 6 Alliance Has The 'Big Brother 20' House Split
Big Brother 20 is now in full swing and alliances have been formed. While "Swaggy C" has formed his group, on the other side of the house the current head-of-household, Tyler, also has his own crew called the Level 6 alliance. But what exactly is the Level 6 alliance and who's in it?
As is the case with every season of Big Brother, houseguests team up to create an alliance that will help them get the votes they need to stay in the house if they end up on the block or keep whoever they want in the house. Although at the end of the day only one person can win Big Brother, having an alliance in the house is one of the best ways to make sure you get all the way to the end because if you don't have the votes you're evicted, plain and simple.
Thus, it wasn't all that surprising that the houseguests have begun teaming up. Level 6 includes Tyler, Angela, Rachel, Brett, Winston, and Kaycee. Their alliance name is simply based on the fact that there are six of them. Although it appears to be a good group, this alliance does have one big problem: they don't have the numbers.
Currently, Sam and Steve are on the block and Steve is definitely on the other side of the house, which is bad for Level 6. Obviously, Level 6 wants Steve out, but since Tyler is HOH this week he doesn't get a vote, leaving Level 6 with only five votes, which isn't enough to keep Sam. It seems like JC is also on Team Sam, but that still only gives Level 6 six votes and they need seven to save Sam.
Thankfully, Sam doesn't actually need Level 6's help to stay. On Sunday night's episode it was revealed that Sam won a power app, which gives her the power to save herself or someone else if they are evicted from the house for the first three evictions. If Sam doesn't use it in those first three evictions the fourth person evicted will automatically return to the house. Thus, if Sam really is evicted on Thursday night she can return to the house.
While it's great that Sam will be safe either way, it'd definitely be better for Sam's game if she didn't have to use this power this week and could have it in her back pocket for the next few weeks. Especially because if she uses it to save someone else from eviction that person could become an ally for Sam. Thankfully, Sam still has a shot at preventing herself from being eviction with the veto competition. If she wins she can pull herself off the block and keep her power a secret. However, if Sam doesn't win the power of veto it's very likely she'll be evicted.
Unless Level 6 can come through for her in the end and get someone on the other side of the house to flip their vote. However, that will be difficult. Steve is good friends with Scottie so he has that vote. For whatever reason, Swaggy C has decided having Steve around is good for his game so he wants Steve to stay, as does his allies Faysal, Kaitlyn, Bayleigh, Haleigh, and Rockstar. Additionally, Sam and Kaitlyn got into a little spat during Sunday night's episode so she's definitely not changing her vote.
So it seems everyone's votes are pretty decided and the only way Sam can stay safe this week is if she saves herself. Thankfully, she's got the power to do so.