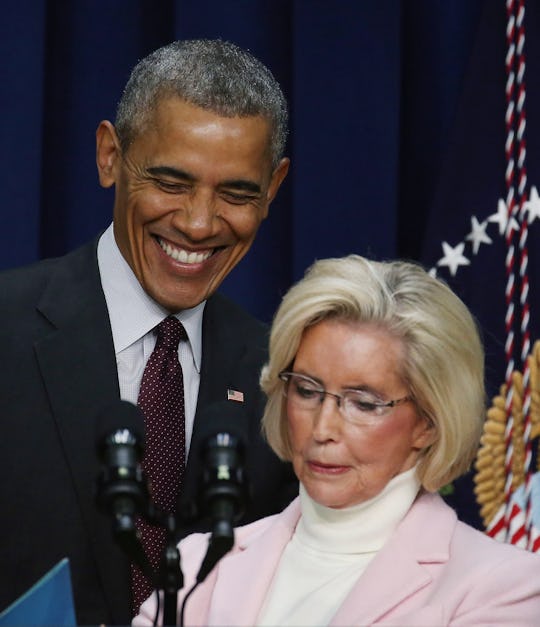 Mark Wilson/Getty Images News/Getty Images
What Is The Lilly Ledbetter Act? It Changed A Lot For Working Women
When Speaker of the House Nancy Pelosi took the stage at the Democratic National Convention on Thursday night, one of the first things she referenced was the Lilly Ledbetter Act, which was signed into law after a push from Democratic senators in 2009. It's been coming up a lot during the DNC, but if you don't know exactly what the Lilly Ledbetter Act is, don't feel bad. It was the first bill signed into law by President Obama when he took office and it amends the 1964 Civil Rights Act. The Lilly Ledbetter Fair Pay Act, as it's officially called, speaks directly to Ledbetter v. Goodyear Tire & Rubber Co., which was a 2007 suit brought by Ledbetter against her employer when she found out that she was getting paid less than men.
The Ledbetter Act addressed the Supreme Court decision "severely" restricted the statute of limitations for an employee to bring an equal pay lawsuit. It was a step in the right direction for anyone who thinks that equal pay is a civil right (that's not everyone?).
Because the initial decision was super restrictive. Often, employees don't have access to their colleague's salaries and if you don't learn about the pay difference until way after you start a job, the decision would limit how much one could recoup.
It means that women who are fired for asking for pay equity can get what's owed. It was a huge success for senate Democrats, especially the women, which is why it's been touted all week not just as a defining Democratic policy but one that Hillary Clinton, who was one of the initial co-sponsors of the bill, which was blocked by Republicans the first time around. When it was signed into law, she was there beaming with her colleagues and Lilly Ledbetter herself.
Gender wage discrimination is still very real, and while laws like the Ledbetter Act give women some rights, there is still a lot of work to be done. If Clinton wants to woo undecided female voters, reminding them of her record when it comes to fair pay might be a good way to do it.