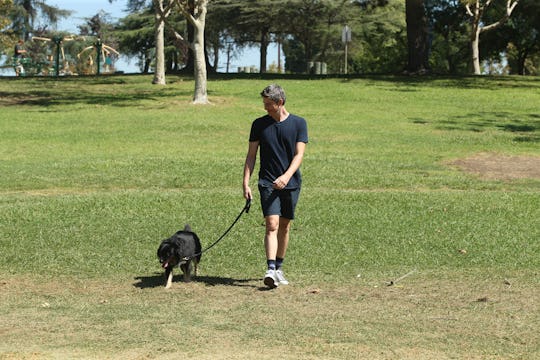 Paul Hebert/ABC
Arie's Dog Has The Cutest Name That 'Bachelor' Fans Will Love
Is there anything better than an episode of The Bachelor? Well, perhaps a lot of things, but not when an episode of The Bachelor features dogs as guest stars. It seems that on Monday, Bachelor Nation will meet Arie's canine companion. So what is the name of The Bachelor Arie's dog? He's not the first, but the latest lead to feature their dog on the show. From the promos, it looks like the pup will be involved in a group date. Looking at Arie's social media profiles, it seems that his dog is really important to him, and the date may see if the contestants are up to snuff (so to speak) to be his new dog-mom.
Arie's dog's name is Bastian, and he's around 10 years old. I saw an ancient tweet of Arie's — from 2012, the year he was on The Bachelorette — that urged his followers to vote for Bastian to be a winner for the "Dog Days of Summer" in AZ Foothills Magazine. Bastian was 4-years-old at the time, so he must be 10 by now. In photos released by JustJared way back in September, Arie is shown walking Bastian throughout the group date. Each contestant has their own dog as well; there's a green grass state and a sign that reads, "Arie's Amazing Acrodogs," so I assume the contestants will have to teach these dogs tricks.
In a photo released by The Bachelor's official Instagram account, Bastian also accompanied Arie and Krystal to their one-on-one date in Scottsdale even though he wasn't featured at any point during the episode. Last year, Bachelorette Rachel brought her pup, Copper, all the way from Houston to Los Angeles with her. According to E! News, this seemed to be the first time a Bachelor/ette lead brought their pet along for their "journey." Copper was even featured on a date: a "two-on-one" with Peter (just kidding, it was a solo date for Peter — Copper never had anything to worry about).
Copper had a cast on at the time and Rachel was quick to explain why in a tweet: he broke his toe "jumping off something." That didn't stop Copper from having fun on their date, though. The three of them attended "BarkFest," described as a "Coachella for dogs" (where do I sign up?). While Peter didn't win Rachel's heart in the end, her eventual suitor, Bryan, certainly got Copper's approval: "Copper loves Bryan," Rachel told People in December. "He had no choice. If Copper didn't approve, we would have problems. But he loves Bryan and Bryan loves him. Bryan loves dogs. He wants another one. We're just one family unit!"
I wonder if Arie feels the same about Bastian approving of his future wife. It would make sense, as he's featuring Bastian in a date as well. Prior to his season of The Bachelor, Arie said that he hasn't loved anyone since Emily Maynard on The Bachelorette. So, it's likely that for a while it was just the bachelor and his pup in Scottsdale. Now, though, he and the winner may have a family unit with Bastian of their own, as Arie fell in love with more than one woman during his season. I'm keeping my fingers crossed that Bastian will not only have a new dog-mom soon, but that he approves and love her like Arie does. I take it from the fact that Arie's introducing Bastian to the contestants early that maybe he's a great judge of character (my dog is, and I can totally see getting his approval as a test for future suitors). Regardless, I'm excited to see Bastian strut his stuff on The Bachelor this week.
Check out Romper's new video series, Romper's Doula Diaries:
Watch full episodes of Romper's Doula Diaries on Facebook Watch.