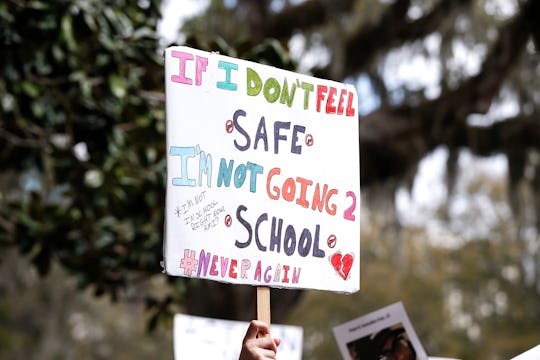 Don Juan Moore/Getty Images News/Getty Images
Everything Parents Need To Know About The National School Walkout
In addition to the upcoming March For Our Lives, many are finding other ways to honor the lives of those killed in the Feb. 14 Parkland school shooting as well as fight for stricter gun safety laws. On the one-month anniversary of the mass shooting, students and teachers across the nation are participating in the ENOUGH National School Walkout. News of the event has been floating around the internet since just two days after the tragic mass shooting, and now with the walkout just around the corner, you might be wondering: What exactly is the National School Walkout?
On March 14, students and teachers at thousands of high schools and colleges all over the country will walk out of class at 10:00 a.m. local time, as reported by CNN. The duration of the walkout will be 17 minutes — one for each person killed when a gunman opened fire on Marjory Stoneman Douglas High School last month. The ENOUGH National School Walkout is being organized by Women's March Youth Empower, a group of teenage activists from cities all over the country, according to the Women's March website.
As explained on the Women's March website, here is why the Youth Empower group is organizing the school walkout:
We are living in an age where young people like us do not feel safe in our schools. This issue is personal for all of us, especially for those of us who are survivors of gun violence. We are walking out for ALL people who have experienced gun violence, including systemic forms of gun violence that disproportionately impact teens in Black and Brown communities. It is important that when we refer to gun violence, we do not overlook the impact of police brutality and militarized policing, or see police in schools as a solution.
The statement continued, "We also recognize the United States has exported gun violence through imperialist foreign policy to destabilize other nations. We raise our voices for action against all these forms of gun violence."
If your child wants to participate, Youth Empower says parents can call their child's school to make sure they will not receive any pushback for participating. Some schools have threatened to suspend students who take part in the walkout, as reported by Vox. However, as CNN noted, administrators cannot inflict punishment for students expressing political beliefs, but only for skipping class for 17 minutes. Also, organizers recommend that parents do not participate in any school walkouts — only those who attend or work at schools should participate.
During the 17-minute walkout, organizers encourage students and teachers to use the time to do anything they choose to honor the victims of the Parkland shooting. Ideas include holding a moment of silence, reading the names of victims of gun violence, encircling your school by everyone holding hands, registering to vote by texting P2P to RTVOTE (788683) to get started, sharing your walkout on social media with the hashtag #enough.
The organizers suggest that students who want to participate consult with faculty to make sure everything goes smoothly and safely. "If walking outside is not a safe option then consider walking-out into hallways, congregate in your school gym, or simply stand up in your classroom for 17 minutes," the website reads.
For those who will not be in a school at 10 a.m. on March 14 or cannot do a physical walkout due to a disability or illness, there are several other ways to show your solidarity. For example, you can wear orange that day, post about the walkout on social media, call your representative, or even walk out of your workplace for 17 minutes. Additionally, there will be another school walkout on April 20, on the 19-year anniversary of the Columbine High School shooting.
So if your child wants to participate in the ENOUGH National School Walkout, all you need to do is support them and make sure their school has a safe plan for the walkout.