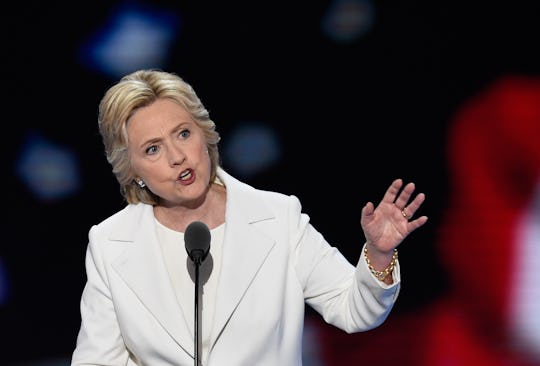 SAUL LOEB/AFP/Getty Images
What Is The Necklace Hillary Clinton Wore To The DNC? It Carries A Sweet Sentiment
Former Secretary of State Hillary Clinton officially accepted the Democratic nomination for president on Thursday night with a beautiful speech about how she would be a president "for all people," including Republicans and Independents, rich and poor. Clinton stepped out on stage in an awesome white suit, and, while speaking, you could also see that she was wearing a small, gold necklace. What is the necklace Hillary Clinton wore to the DNC? According to NBC News Producer Monica Alba, who is covering Clinton, it is a necklace that Bill Clinton gave her for their 40th wedding anniversary.
Clinton reportedly wears the necklace and other charms regularly on the campaign trail. Specifically, the one Clinton wore on the night she accepted the nomination was a locket Bill gave her, according to an interview she did with People. Then she wears two other pieces of meaningful jewelry, according to the interview:
I have a bracelet that Bill gave me with a baby picture of Charlotte, which she loves to point at and say 'Baby!'
The other gold piece of jewelry she often wears is another necklace that contains "more pictures of Charlotte," according to People. But Clinton also said that she carries around other things that she picks up on the campaign trail:
People give me all kinds of charms, mementos that are important to them and I do keep them with me. ... So I carry my own personal talismans around with me. But then I also carry around things that people have pressed into my hand that are important to them – a rosary, a medal, a Purple Heart medal, a prayer ring, a knitted cross, an evil eye to ward off an evil eye.
I get so much love and support from people that I meet for the first time and I try to remember that too.
It's inspiring and sweet that Clinton's dedication to service is something she physically carries with her as well as figuratively. Her love for helping others and the fact that that is a president's goal is something she focused intensely on during her nomination acceptance speech at the DNC:
When there are no ceilings, the sky's the limit.