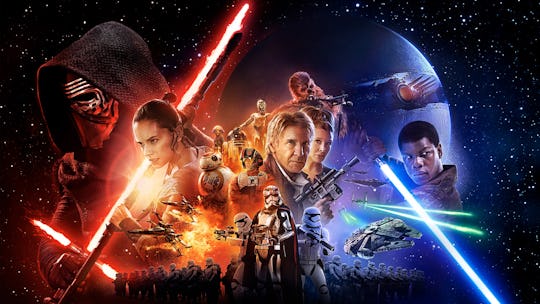 Lucasfilm
What Is The Next 'Star Wars' Movie? 'Rogue One' Will Offer An Important Backstory
By now, you have either seen Star Wars: The Force Awakens or read enough about it that you might as well have. Some of us weren't satisfied with spending only two hours and sixteen minutes in a galaxy far, far away, and have gone back to the theater multiple times, as evidenced by the fact that Episode VII is projected to make $700 million by the time it turns two weeks old. But now what we want to know is, what is the next Star Wars movie?
Our next taste of Star Wars will be Rogue One, the first film in the Star Wars Anthology Series, a collection of standalone films that step away from the main saga. Don't expect to see Luke or Leia popping up in this one. Rogue One premieres Dec. 16, 2016, and will tell the tale of the Resistance fighters who stole the plans for the original Death Star. Though no specific timeline has been mentioned, a short teaser was shown at the Star Wars Celebration in Anaheim this past April, and Entertainment Tonight reports that the Death Star could be seen in it, which would indicate that Rogue One is set just before A New Hope, (or BBY, for superfans). While it's a bummer that we won't get to see any of our old friends, remember how important these resistance fighters were: without them, A New Hope could never have happened. And hey, at least we'll get to see x-wings, right?
So what about the next installment of the Star Wars saga after that? We'll have to wait about a year and a half. The Wall Street Journal reports that while there's no official title yet, Episode VIII will premiere May 26, 2017, and you should stop reading here if you still haven't seen The Force Awakens and don't want to see any mild SPOILERS. Get your butt to the theater already; it's been a week and a half!
Episode VIII will pick up some time after Episode VII, but how much later is unclear. It features much of the same cast, according to its IMDb page, so we can look forward to seeing Luke, Leia, Rey, Finn, Poe, and R2-D2 again. As for the baddies, Captain Phasma will return (yay!) along with Kylo Ren (boo!). Although J.J. Abrams isn't writing or directing this installment (that honor goes to Breaking Bad's Rian Johnson), he is signed on as the executive producer, which is a good sign.
On May 25, 2018, we'll get another anthology installment: a Han Solo origin story (a moment of silence, please). The film will be written by Lawrence Kasdan (writer of Episodes V, VI, and VII) and directed by Phil Lord and Chris Miller (Cloudy With a Chance of Meatballs, The Lego Movie). Lucasfilm president Kathleen Kennedy told Entertainment Weekly that we'll see Han Solo as a teen, or perhaps in his early twenties. I can see this movie being really funny. Let's just hope they get the casting right, and cross our fingers that it's a wacky buddy comedy featuring Han's best bro, Chewbacca.
As for Episode IX, we know practically nothing, and probably won't for at least a couple of years. Writing will be handled by Rian Johnson again, and Jurassic World's Colin Trevorrow will direct. It's unclear if J.J. Abrams will have any involvement. Episode IX will premiere sometime in 2019, and the Boba Fett spinoff has been pushed to 2020 since director Josh Trank dropped out.
And there you have it. The only thing worse than waiting that long to to find out how the new saga concludes is realizing how old our kids will be when that happens.