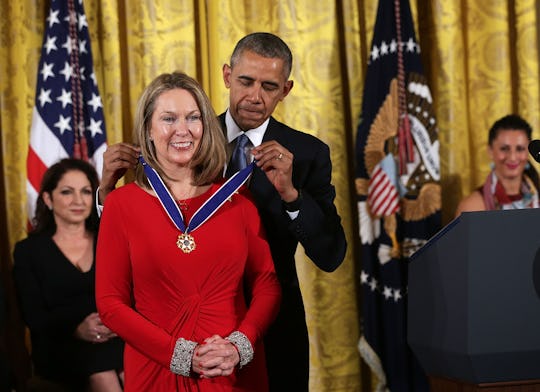 Alex Wong/Getty Images News/Getty Images
What Is The Presidential Medal Of Freedom? It Honors The Year's Top Civilians
On Wednesday, President Obama named 21 recipients of the Presidential Medal of Freedom. With a surprising array of people in different roles on the medal's receiving end — including comedian Ellen Degeneres, tribal community leader Elouise Cobell, and architect Frank Gehry — some might be wondering what exactly the Presidential Medal of Freedom is. After all, what do comedy, architecture, and community-building have in common?
To be honest, not much. But the Presidential Medal of Freedom isn't awarded to those in a certain industry; it's the highest civilian honor one can receive in the United States, and according to a White House press release, the medal is awarded to "individuals who have made especially meritorious contributions to the security or national interests of the United States, to world peace, or to cultural or other significant public or private endeavors."
According to the Encyclopedia Britannica, the medal can be awarded to people from around the world (this year's recipients include two Canadians) although most recipients are typically American. The award can also be given posthumously: this year, both Elouise Cobell and rear admiral and programmer Grace Hopper are being honored posthumously.
The recipients are selected each year by the president and the Distinguished Civilian Service Awards Board. In a statement on Wednesday, President Obama said:
The Presidential Medal of Freedom is not just our nation's highest civilian honor - it's a tribute to the idea that all of us, no matter where we come from, have the opportunity to change this country for the better. From scientists, philanthropists, and public servants to activists, athletes, and artists, these 21 individuals have helped push America forward, inspiring millions of people around the world along the way.
This year's recipients — the final batch to be selected by Obama — include a few noteworthy individuals: NBA all-time leading scorer Kareem Abdul-Jabbar, actor Robert De Niro, philanthropists Bill and Melinda Gates, and computer scientist Margaret H. Hamilton will all be receiving awards. Other honorees include college president Eduardo Padrón, physicist Richard Garwin, and designer Maya Lin. Past recipients included Bill Cosby in 2002, German Chancellor Angela Merkel in 2011, and anti-apartheid activist Desmond Tutu in 2009.
For those who want to watch the ceremony, tune in to see some of this year's most influential civilians nab their much-deserved awards next Tuesday. The White House will be live-streaming Obama's final Presidential Medal of Freedom ceremony on Nov. 22.