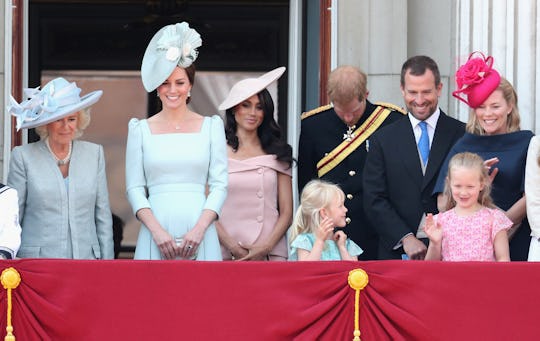 Chris Jackson/Getty Images News/Getty Images
Meghan Markle Has Officially Joined The Royal Foundation, & Here's What She'll Be Doing
Meghan Markle has only been an official royal for a few weeks, and she is already giving back to her new community in so many ways. Most recently, she was appointed a patron of The Royal Foundation, of which her husband and new in-laws are also patrons. That being said, what exactly is The Royal Foundation?
The Royal Foundation is the "primary philanthropic and charitable vehicle" for William, Duke of Cambridge, Catherine, Duchess of Cambridge, Prince Harry, Duke of Sussex, and now, Meghan, Duchess of Sussex, according to the foundation's website. Harry and William established The Royal Foundation in September 2009. After William and Kate got married in 2011, she joined the foundation as a Principal Patron, and the foundation became totally operational, the website explained. And now that Meghan is the foundation's fourth Principal Patron, the organization has changed its name to The Royal Foundation of the Duke and Duchess of Cambridge and the Duke and Duchess of Sussex, People reported. The details on the organization's name changes can be found on the Companies House website. Originally, it was known as The Foundation of Prince William and Prince Harry, and after Kate joined, the name changed to The Royal Foundation of the Duke and Duchess of Cambridge and Prince Harry.
The Royal Foundation previously announced on its website that Meghan would be formally joining upon her marriage to Harry. In February, the fabulous foursome participated in the first annual Royal Foundation Forum, of which the theme was "Making a Difference Together." They all took part in a panel to discuss the purpose of The Royal Foundation, what they were working on at the time, and their future goals for the foundation. At the time, The Royal Foundation released a statement about working with Meghan on its website:
We are delighted to welcome Meghan to the Foundation. She has always shown great drive and compassion for making a difference in the world, and we are excited to embark on important projects together.
Meghan has always had an affinity for charity work, so it's no surprise that The Royal Foundation is welcoming her with open arms. As a child, her parents encouraged her to give back in so many ways — something she opened up about in a 2016 essay for Elle. She wrote:
My parents came from little so they made a choice to give a lot: buying turkeys for homeless shelters at Thanksgiving, delivering meals to people in hospices, giving spare change to those asking for it. It's what I grew up seeing, so it's what I grew up being: a young adult with a social consciousness to do what I could and speak up when I knew something was wrong.
And in a 2015 speech at the U.N. Women's conference, Meghan shared the story of the first big difference she made in the world, back when she was 11 years old, Glamour reported. At school, her class watched a dish soap commercial featuring the line "Women all over America are fighting greasy pots and pans."
"I remember feeling shocked and angry and also just feeling so hurt," Meghan recalled in her speech. "It just wasn't right, and something needed to be done." So, she wrote letters: to Procter & Gamble (the company behind the commercial), First Lady Hillary Clinton, lawyer Gloria Allred, and Nick News host Linda Ellerbee. Her story made it to the children's news program, and Procter & Gamble listened, eventually changing the line in the commercial to be "People all over America are fighting greasy pots and pans."
Meghan Markle has clearly always loved giving back, and it will be so exciting to see how she continues to do so as the Duchess of Sussex and a Principal Patron of The Royal Foundation.