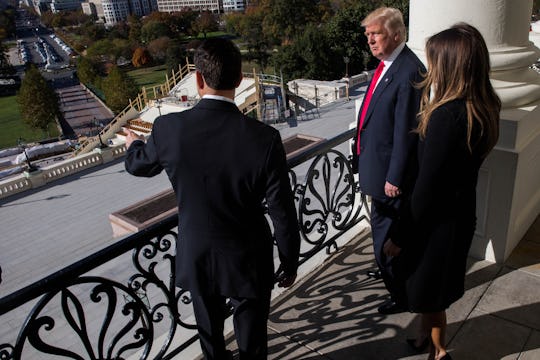 Zach Gibson/Getty Images News/Getty Images
What Is The Security Like At Trump's Inauguration? Expect It To Be Heavy
On Jan. 20, thousands of people will gather in the nation's capital to see President-elect Donald Trump get sworn in and become the President of the United States. The events that take place on Inauguration Day are an all day affair which means a lot of people will be in Washington D.C. But what is the security like at Trump's inauguration and will it be any different from years past? Given how tense this post-election season has been, expect security to be higher than ever.
Trump will be everywhere in D.C. on Inauguration Day. Don't believe me? Here is a little run down of his schedule so you know how much security will be needed: Trump, along with Vice President-elect Mike Pence, will be sworn in around noon, in front of the Capitol Building. The inaugural parade will later begin as Trump and his motorcade makes its way from the Capitol to the White House. At the end of the night, Trump will make his appearance at the inaugural ball. In these locations, people will be able to get a very good glimpse at the president-elect himself. But how tight will security be at the inauguration? Security in D.C. is already a little tight around Trump — expect the security at Trump's inauguration to be even tighter.
Those who have tickets to any of the Inauguration Day festivities, according to Washington.org, will have to go through a security clearance beforehand and show their photo ID during points throughout the day. This seems reasonable, given just how close they might end up being to Trump. During this pre-inauguration time, Trump is reportedly "being shielded" by Secret Service agents in his home at Trump Tower, according to TMZ. The street Trump Tower is on is barricaded and surrounded by police — therefore, it is safe to say that the Inauguration Day security will be on a much larger scale.
It's understandable why Secret Service would want to take these extra measures — anti-Trump protests are happening all across the nation and are expected to happen in D.C. the day after Trump gets sworn in and possibly during Inauguration Day as well. According to The Washingtonian, protesters are currently in court, asking the National Park Service for two spaces to protest on Inauguration Day.
Security for Obama's second Inauguration Day was taken just as seriously as Trump's security will be. According to a CBS News article from the time, security was "extremely tight." Officers were uniformed but also dressed in normal clothes, blending in with the crowd and looking for suspicious behavior. And according to Salon, former President George Bush's inauguration in 2001 had the "greatest amount of security ever" for a presidential inauguration — and this was before terror threats reached an all time high post Sept. 11.
You can't fault police for taking added measures, especially during a historic and controversial Inauguration Day like the upcoming one in January — they're just doing their jobs to protect the president-elect on his very important day. Expect security to be very present in the nation's capital for Inauguration Day 2017.