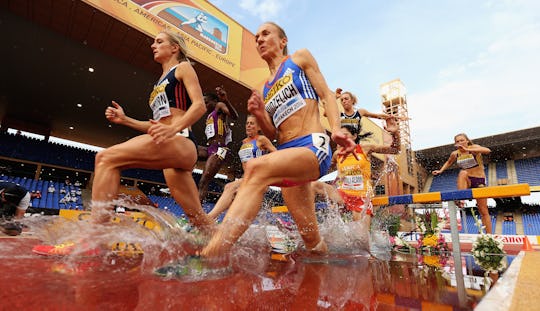 Matthew Lewis/Getty Images Sport/Getty Images
What Is The Steeplechase In Track & Field? There Are Puddles Involved
The most unexpected Olympic sport I can fathom is definitely curling. A staple in the Winter Olympics, this shuffleboard-on-ice seems like a better fit for a day of r&r at the country club as opposed to a setting for intense, worldwide competition. As I scanned a list of summer Olympic events recently, the majority of the titles were self-explanatory (the differences between badminton and handball notwithstanding). But sifting through track and field in particular, one competition left me (and I suppose many others) stumped: What is the steeplechase in track and field? Hint: there are puddles involved.
Falling under "track" as opposed to "field," steeplechase is a race. In seven and a half laps, the runners are expected to dodge multiple hurdles, one of which is situated over a pit of water. You heard me, steeplechase is a "3,000-meter obstacle race with four barriers, or hurdles, and a water pit," according to Wired. The barriers used are long – one barrier extends over each lane, and from the videos that I've watched, it definitely takes some extra coordination to hurdle these barriers without tripping over another runner. Former American steeplechase champion Ann Gaffigan explains what it's like to hurdle in groups:
Sometimes you can't see the barrier. There were times when I simply jumped when I saw heads rising ahead of me and hoped I'd make it.
Hurdling in groups through a 1.86 mile race would seem like high enough of expectations, but there's the water pit to deal with. Gaffigan shares:
The pit is 12 feet long and located at the end of the track on the curve before the home stretch, either on the inside of Lane 1 or the outside of the final lane. It's got a barrier in front of it, a barrier being a really wide hurdle. It doesn't collapse if you catch a leg on it; you do.
I have so many questions about this caveat, most of them pertaining to footwear. Do steeplechasers wear socks? Is it hard to run with wet spikes? In warm weather, is the water refreshing? How clean is the water pit's water?
And the question you're probably asking: do people wipe out a lot? In 2012 this video of Brigham Young University runner Katy Andrews tripped over the barrier, falling face-first into the water pit. (Don't worry, she emerges smiling, albeit dumfounded and bruised.)
The video above shows how exciting a steeplechase race can be. In 2012, Russian athlete Yuliya Zaripova won gold, though Zaripova "was later stripped of the medal because of doping." (Regardless, skip to minutes 4:46, 6:01, 8:27, 9:40, and 10:50 to check out that water pit.)
Emma Coburn is the leading American runner in steeplechase and is third in the world. Coburn confirms the free-spirited nature that graces the event, pointing out that "it's a nice change from just the monotony of running in a straight line." Coburn will be representing the United States along with Courtney Frerichs and Colleen Quigley. A win in Rio would make Coburn the first U.S. competitor to medal in steeplechase, as women weren't allowed to compete in it until 2008. Men, on the other hand, have been chasing since 1900. Though it doesn't seem fair, we know one thing's for sure: These ladies are gonna bring it.