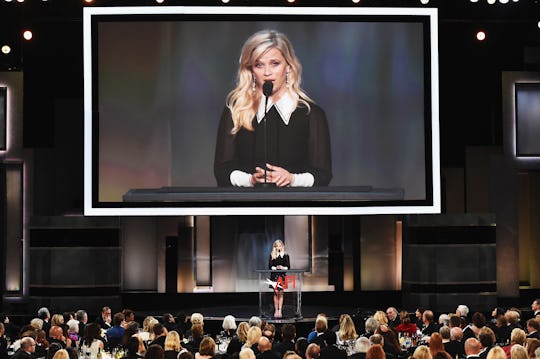 Kevin Winter/Getty Images Entertainment/Getty Images
The Time's Up Pin At The Golden Globes Calls Attention To An Important Cause
Fans are used to entertainment industry awards shows being all about fashion, statuettes, tearful speeches, and that one awkward joke by the host that everybody will be talking about at work the next morning. But at the inaugural 2018 event, the usual pomp and circumstance is taking a backseat to activism. If you're watching the red carpet pre-show and wondering about the "Time's Up" pin at the Golden Globes, it's time to catch up, because you're bound to be seeing them punched through the fabric of hundreds of couture gowns tonight (I wonder if they'll get charged for that).
Hollywood, as you might have heard, has a bit of a sexism problem. OK, let's be real; everywhere has a sexism problem, except for maybe that island where Wonder Woman came from. But the Hollywood version of it — the "casting couch," the lack of woman directors, the fact that male leads make twice as much as their female peers — is particularly pervasive, often openly joked about, and rarely called out. Time's Up, an initiative founded by 300 prominent women in entertainment, aims to put a stop to that, and they've turned the 75th annual Golden Globe Awards into their own public service announcement.
Hollywood's open secret of the misogyny and sexual misconduct of powerful men seemed like a hopeless catch-22; many victims were afraid to come forward because they were told nobody would believe them (or care), and they'd be blackballed from the industry. Some did, and that warning proved true. Perhaps if there were others to corroborate their stories, they'd be taken seriously, but how could that first woman, that patient zero, expect to be heard and believed?
In early October 2017, approximately a century after the Hollywood movie industry began, a crack finally began to develop in the dam. The New York Times published an exposé accusing film producer Harvey Weinstein of a pattern of sexual harassment going back decades. Prominent actors Ashley Judd and Rose McGowan were among the sources who went on record to corroborate the claims. Over the next three days, Weinstein denied the claims, gave a stereotypical non-apology, threatened to sue, took a leave of absence from The Weinstein Company, and was ultimately fired. Within three weeks, more than 80 women had accused Weinstein of everything from harassment to rape, according to USA Today. A representative for Weinstein did not respond to Romper's request for comment.
In the following months came a reckoning for predatory actors, directors, comedians, journalists, and other celebrities. Dozens of prominent men were publicly accused of various types of sexual misconduct. In most cases, the accusers were believed (!), and the men, more often than not, lost their jobs. But the problem isn't exclusive to the entertainment industry. In mid-November, the Alianza Nacional de Campesinas (National Women Farmworkers' Alliance) published a letter of solidarity addressed to the women who had come forward, writing, "Even though we work in very different environments, we share a common experience of being preyed upon by individuals who have the power to hire, fire, blacklist and otherwise threaten our economic, physical and emotional security."
Time's Up calls for all women in all industries to stand together and fight for gender equality. The founders, while still at a disadvantage from their male counterparts, recognize their positions of relative privilege, and vow to use their wealth and prominence to aid women with less resources.
Costume designer Arianne Phillips and jewelry designer Michael Schmidt were invited to design and create pins to promote the movement in time for the Golden Globes, according to The Hollywood Reporter, and were able to crank out 500 in just two weeks' time. Now that they have your attention, please visit the Time's Up website to learn what you can do to combat workplace sexual harassment, assault, and inequality, whether it's by donating money or time, or just speaking up for what's right. It will take all of us standing together, but we can do it.
Check out Romper's new video series, Romper's Doula Diaries:
Watch full episodes of Romper's Doula Diaries on Facebook Watch.