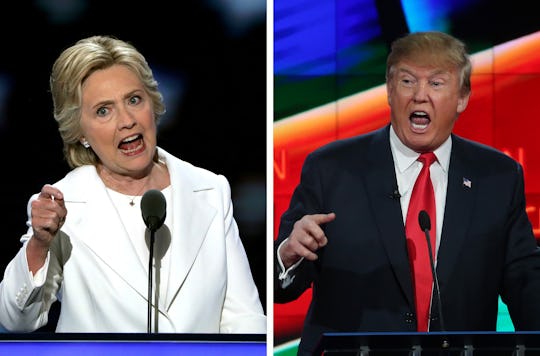 Alex Wong/Getty Images News/Getty Images
What Is The Topic Of The First Presidential Debate? It Will Focus On Security & Economy
Donald Trump and Hillary Clinton are finally set to officially duke it out during the first presidential debate of the 2016 election. The big event is scheduled to take place next Monday, Sept. 26, at Long Island's Hofstra University, in Hempstead, New York. The highly-anticipated meeting is expected to touch on numerous topics that are important to voters. So, what is the topic of the first presidential debate? The moderator of the political event, NBC's Nightly News host Lester Holt, has chosen three topics that will focus on several aspects of the nation's future.
According to Politico, the topics are expected to include "America's Direction," "Achieve Prosperity" and "Securing America." But, these talking points could change, depending on news developments leading up to the debate.
Starting at 9 p.m. ET, according to NPR, the first debate will be divided into three 30-minute segments on one of the three selected issues. This outline is slightly different from the original announcement made on Monday, which said there would be six 15-minute segments. Commission On Presidential Debates co-chairman Frank Fahrenkopf told NPR that it was Holt's decision to combine the segments.
Just as this election season has been completely unpredictable, no one really knows what to expect of the presidential candidates while they debate on the stage of the university's lecture hall. "It's clear that there's no love between them," Fahrenkopf told NPR on Monday. "And how they will present themselves to the American people is anyone's guess."
Third-party candidates Gary Johnson and Jill Stein were not invited to this fall's debates, as their polling averages failed to qualify.
The commission said in a statement, according to Fortune:
The Board determined that the polling averages called for in the third criterion are as follows: Hillary Clinton (43 percent), Donald Trump (40.4 percent), Gary Johnson (8.4 percent) and Jill Stein (3.2 percent). Accordingly, Hillary Clinton and her running mate, Tim Kaine, and Donald Trump and his running mate, Mike Pence, qualify to participate in the September 26 presidential debate and the October 4 vice-presidential debate, respectively. No other candidates satisfied the criteria for inclusion in the September 26 and October 4 debates. The criteria will be reapplied to all candidates in advance of the second and third presidential debates.
After the commission announced the topics, some on social media noted that they found the topics to be too vague and might provide the candidates with opportunities to stray off topic:
The outcome of the debate on Monday, Sept. 26 — which is date of the anniversary of the first televised presidential debate between Richard M. Nixon and John F. Kennedy in 1960 — is really anyone's guess. And while the eventual discourse may end up touching on other relevant and topical issues for voters, outside of the list, hopefully the political argument will answer many of the most pressing questions Americans need to know.