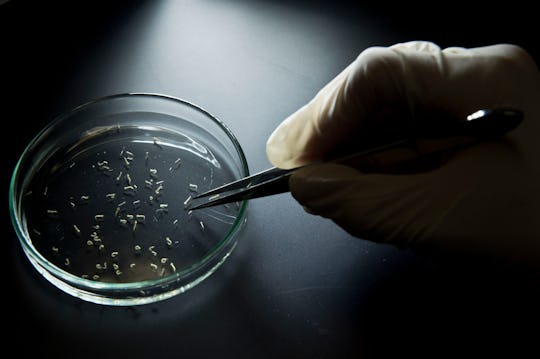 What Is The Treatment For Zika? The CDC Issued New Guidelines For Pregnant Women
Doctors of pregnant women concerned about possible treatments for the Zika virus have been given new guidance from the U.S. Centers for Disease Control. The CDC is recommending Zika testing for pregnant women who feel ill after traveling to a country where the disease has been detected, according to the New York Times. The new guidelines available on the CDC website provide doctors with a series of steps to screen pregnant women for the Zika virus, including when and how patients will be able to access limited blood testing.
Because the Zika virus has been linked to significant birth defects in newborns, including a condition called microcephaly, the CDC has already warned against pregnant women traveling to certain countries in Latin America and the Caribbean where the mosquito-borne Zika virus has been spreading, the Times reported.
Experts have known about Zika for some time. The Zika virus is common in Africa and parts of Asia, according to the Times, and in some countries residents have actually developed an immunity. However, in May 2015, the first Zika cases were detected in the Western hemisphere. Since then, the disease has spread rapidly through Brazil, Central America and most recently to areas of the Caribbean. While the possibility of blood testing will comfort many pregnant women worried about Zika exposure, the CDC guidelines are very clear about who should — and shouldn't — get additional Zika screening. Here are a few facts about Zika testing and treatment.
Pregnant Women Who Feel Sick & Traveled To Zika-Infested Areas Should Get Tested
According to the Centers for Disease Control website, pregnant women who feel sick and have visited countries where Zika has been detected should see their doctor for diagnostic testing. Symptoms of Zika include fever, rash, joint pain, and red eyes. Even though at least 80 percent of Zika patients won't have any symptoms, according to the CDC, only women who are feeling sick should get blood tests. And the timing of the test is crucial; the New York Times reported that Zika blood tests are only effective within two weeks of infection.
Only The CDC & A Handful Of States Have The Ability To Perform Zika Testing
Right now, there isn't a commercially available diagnostic test for Zika, according to the Times, and that's one reason the CDC is only recommending blood tests under certain scenarios. The advanced laboratories with the ability to perform the blood test don't have the capacity to screen every woman at risk of being infected — every pregnant woman who has visited or lived in Puerto Rico for the last nine months, for example.
Dr. Denise Jamieson, one of the authors of the CDC recommendations, acknowledged in a CNN interview that even if widespread Zika testing were possible, it would carry significant risks. "We don't want to recommend everyone be tested and then have a situation where you can't sort out who is truly positive," she said. "The wait for results can take about a week."
Women Who Don't Have Symptoms Can Still Get An Initial Zika Screening
Because there isn't a way to tell whether babies born to mothers without symptoms might be at risk, obstetricians should expect an influx of worried patients without any symptoms or who learned of the risk of exposure outside of the two-week screening window, Jamieson warned. In those cases, the CDC recommends a fetal ultrasound to look for signs of microcephaly such as a smaller-than-normal head size or calcium deposits in the skull. Unfortunately, reported the Times, microcephaly isn't found via ultrasound before the second trimester.
The CDC Urges Doctors To Offer Certain Patients A Series Of Ultrasounds Over Time
Whether a blood test is positive, negative, or inconclusive, the CDC recommends that doctors and patients monitor for signs of Zika infection through a series of ultrasound scans. Women who tested positive for Zika, or whose test results were inconclusive, should receive ultrasounds and amniocentesis.
According to the Times, amniocentesis -- where a sample of the amniotic fluid surrounding the baby is taken via needle and tested for a number of possible illnesses -- is not recommended until a fetus is at least 15 weeks old.
There's No Treatment For Zika Or Microcephaly
Perhaps the most alarming fact about Zika infection — aside from the limited availability of reliable testing and the narrow detection window — is that right now there's no treatment for Zika or the health complications it poses for babies, the Times reported. Because many of the diagnostic tools aren't available to parents until the second trimester, women who chose to terminate a pregnancy after Zika exposure would be forced to undergo a late-term abortion. And while the procedure poses little medical risk to the mother, according to the Times, it can come with significant emotional consequences for the parents-to-be.
Speaking to CNN, Dr. Laura Riley acknowledged the serious situation that some mothers-to-be might be facing. Riley is director of obstetrics and gynecology infectious disease at Massachusetts General Hospital and chair of the American College of Obstetrics and Gynecology immunization expert working group. She told CNN that when a baby has microcephaly, it's difficult for doctors to predict or determine brain function. At the very least, the infant would be very sick after delivery. "The really tough thing here is for those who may have been infected nothing can be done," she said. "We're hunting and looking for something we can't do anything about. There's no treatment and no prevention, other than just not getting bitten."
Images: Getty Images