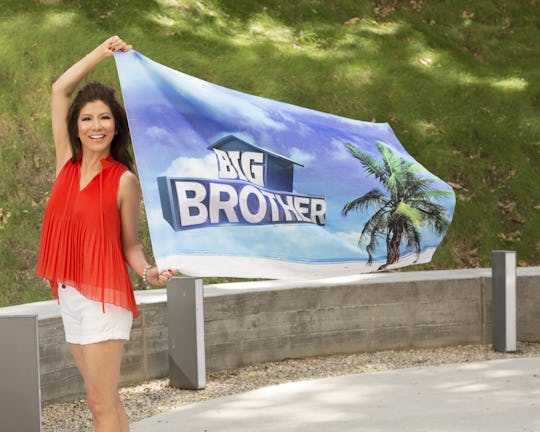 Bill Inoshita/CBS
Another Temptation Has Shaken Up The 'Big Brother 19' House
On Big Brother, it's currently a summer of temptation. From the very beginning the houseguests were tempted with $25,000, then the Den of Temptation, then the Temptation Competition, and now there's the Tree of Temptation. But what is the Tree of Temptation on Big Brother 19? It could shake up the game once again.
After the Double Eviction it was revealed that there was another twist in the game. Although the Temptation Competition — which guaranteed the winner safety and forced the loser to become a special third nominee for eviction — is now over, this new twist can either help or hurt the houseguests' games. Similar to the other temptations of the summer, houseguests get to choose if they want to use the Tree of Temptation.
The way it works is simple. When the tree lights up, houseguests will have the opportunity to go into the diary room and say they would like to pluck an apple from the tree. The first person to do this gets to pick the apple of their choice, however depending on which apple the houseguest chooses, it could either benefit them or make their situation in the house worse.
The prizes/punishments include Save a Friend, Second Veto, Eliminate Two Eviction Votes, Can't Play in Next HOH, and Bounty on Your Head.
Only one person can choose an apple when the tree lights up and the prize/punishment has to be used that week. Unsurprisingly, Mark, who's clearly the house's target this week, decided to take the first apple. Unfortunately, though, the prize he won doesn't help him this week.
Mark received the Save a Friend apple and since he no longer has any friends in the house, the apple was essentially useless. Even so, Mark had to use the apple so he decided to use it on Paul because Paul gave him a friendship bracelet at the start of the season and Mark promised Paul he'd repay him for that later on.
Mark hoped that by showing how he keeps his word, he'd be able to sway the house to keep him. However, it seems the plan is still to backdoor Mark. Initially, the current HOH Christmas contemplated keeping Mark so her side of the house has the numbers to get rid of the two other duos (Matt/Raven and Alex/Jason), but she decided to stick with the original plan. Therefore, unless Mark's chosen to play in the Veto Competition this week and wins, it seems likely that he'll be following his girl Elena into the jury house.