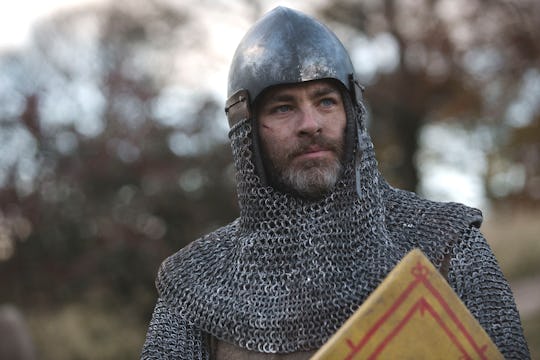 Netflix
Netflix's 'The Outlaw King' Is Based On A True Story, But What Makes It Great?
If there's one thing Chris Pine does well, it's a period piece. The Wonder Woman star is headed further back in time to lead a medieval rebellion in a new Netflix flick based on the epic tale of Robert the Bruce. For history buffs (or anyone else trying to decide if they should check out this offering), you may be wondering: what is the true story of The Outlaw King?
Let's jump way back to the early 14th century. King Edward I had instituted the English occupation of Scotland. Robert the Bruce, a Scottish royal, had given up his right to the throne and sided with King Edward. But things soon changed.
Bruce and James Comyn were Guardians of Scotland, and in competition for the throne. A disagreement between the two led to a physical fight, and Bruce killed Comyn. He was excommunicated for his crime, becoming an outlaw, and he vowed to win back his title as king.
Bruce fought tirelessly for several years, leading guerilla warfare against the Comyn family and all of their allies. During this time, Edward I passed away, and his son, Edward II, had succeeded him in English rule. In 1314, the English army fought Bruce and his fellow Scottish rebels in the Battle of Bannockburn, with Bruce securing an impressive victory despite his significantly smaller infantry.
It's all very Game of Thrones, minus the dragons and what not. In fact, you might recognize Edward, played by Stephen Dillane, from his role as Stannis Baratheon. Bruce's dad, Bruce senior (James Cosmo), also had an arc on the HBO fantasy series as Jeor Mormont. And the Scottish setting will definitely have you feeling like you're in Westeros.
But The Outlaw King is rooted in a very real world. Its historical accuracy hasn't been properly debated, but considering the critics' complaints about it are that it's too dense and extremely bloody, it stands to reason that there's at least some truth to the tale. Is Outlaw King another Braveheart? No, but as it does pick up where the Mel Gibson-led flick left off, fans of the classic will probably be intrigued. But if you're more of an Outlander stan, fear not: There's some old-fashioned lovin' from these Scots as well, complete with a Chris Pine nude scene (full-frontal!) that will take your mind back to the last time you saw him like that in Themyscira.
Outlaw King comes to Netflix from the mind of director, writer, and producer David Mackenzie. You might recognize his name from the Oscars last years: His 2016 Western thriller, Hell or High Water, was nominated for four Academy Awards, including Best Picture. Mackenzie worked with Pine on that film as well.
Speaking of Pine, the actor portraying Bruce went all in for this role. He took on a Scottish accent (which couldn't have been easy), and channelled a more serious affect than usual. Plus, he bearded up. Everyone knows that Chris Pine with a beard is the best Chris Pine. Clearly, there's plenty to enjoy when it comes to The Outlaw King, from a true medieval tale of war to some seriously pleasing eye candy.