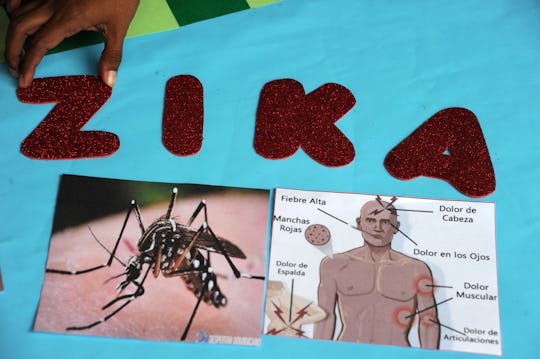 ORLANDO SIERRA/AFP/Getty Images
What Is the U.S. Doing To Stop Zika Virus? Congress Won't Approve Funding
With the Zika virus continuing to spread throughout the Caribbean and Latin America, and the summer mosquito season quickly approaching, American leaders agree more needs to be done to combat the spread of the virus. But, as happens all too often in Washington D.C. these days, the money needed is held up in yet another partisan fight between the Republican-dominated Congress and the White House. So what is the U.S. doing to stop the Zika virus? The Obama Administration just announced it will divert nearly $600 million previously earmarked to fight Ebola to combat the spread of Zika, ABC News reported.
In February, President Barack Obama requested approval from Congress to spend $1.9 billion in emergency funding for the Zika virus, but partisan politics and Republican efforts to block practically anything Obama does (even when it's meant to help pregnant women) is keeping legislators from taking the necessary steps to approve the budget. Frustrated by Congressional inaction, the White House this week announced it will redirect Ebola funds as a stopgap measure to do what it can to fund research to develop a vaccine as well as create a team to respond rapidly to Zika outbreaks and limit its spread. But, more money is needed. White House budget chief Shaun Donovan Health and Human Services Secretary Sylvia M. Burwell held a conference call this week explaining that the longer Congress takes to approve the necessary funds, the more danger the world faces.
Burwell added there are 672 confirmed cases of Zika in the U.S., including 64 pregnant women. There is believed to be a link between pregnant women becoming infected with Zika and a catastrophic birth defect in their babies called microcephaly.
White House Press Secretary Josh Earnest came out on Wednesday with a statement slamming Congressional Republicans for failing to act on allocating Zika funding. "At some point, they're going to have to choose whether or not their animosity toward President Obama trumps their desire to try and protect pregnant women in their states from this terrible disease," Earnest said.
In the meantime, the White House says President Obama will continue to work with governors to fight Zika across the country to do these four things: First, they hope to provide support and technical assistance in at-risk areas for Zika; second, they will monitor mosquito populations and control strategies; third, they will coordinate rapid response capacity for mosquito surveillance; and, fourth, the administration hopes to educate the public on how to stay safe from Zika.
But, Burwell added, taking money away from the fight against Ebola to combat Zika isn't a smart long-term solution to keep Americans safe. "We face two real global health challenges, Ebola and Zika, and we don't have an option to set one aside in the name of the other," she said.
Republicans at the Capitol released a statement in response to the White House move to shift over Ebola funds saying they will "continue to monitor the changing needs resulting from this unpredictable crisis to assure the resources necessary for the response are available." That sounds like a whole lot of words that still don't address why Congress is stalling on an issue that will directly affect the health and welfare of pregnant women and their future children.