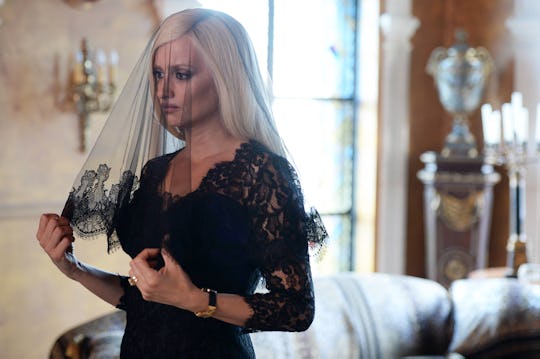 Jeff Daly/FX
'American Crime Story' Season 2 Showcases The Wealth Of The Versace Family
The Assassination of Gianni Versace takes a look at the bizarre circumstances of legendary fashion designer Gianni Versace's murder, and the series is already courting controversy for its version of events. It's based on the unauthorized nonfiction bestseller Vulgar Favors, by Maureen Orth, and since the Versace fortune is bound to play a part in the story, some of you may be wondering: what is the Versace family net worth? When Blackstone Group bought a 20 percent share of the company in 2014, its valuation was estimated at a staggering $1.4 billion.
After Versace's death, his family sought refuge from the media circus surrounding the influential designer's murder by hunkering down in a private resort in the Caribbean. His sister, Donatella Versace, eventually took over the fashion company as its vice president and chief designer. She was always an instrumental figure in associating celebrities with the brand and doing PR for her brother's designs, but her keen eye eventually earned Donatella her own label under the Versace brand.
Donatella's daughter Allegra was given a 50 percent stake in the company in Versace's will, which she came into when she turned 18, according to Forbes. That puts Allegra's net worth at about $800 million. Meanwhile, Donatella's net worth is estimated to be around $200-$300 million. The remaining company stakeholder is Versace's eldest brother Santo, who serves as president and co-chief executive officer of the brand. The company did struggle following its founder's murder in 1997, but after Gian Giacomo Ferraris came on as its CEO in 2009, the company turned profitable again by 2011.
Another player in the story is Gianni's boyfriend Antonio D'Amico, who is played by Ricky Martin in the anthology series. He and Gianni were together for 15 years at the time of his death, and he was written into Gianni's will. D'Amico was to receive a pension of about $26,000 a month for life, and the freedom to live in any of Versace's international properties, according to The Guardian. Unfortunately, those properties actually belonged to the company — controlled by Donatella and Allegra — so D'Amico couldn't secure rights to any of the homes. In the end, after a series of negotiations, D'Amico settled on a smaller monthly stipend and restricted rights to the houses.
In a statement to Entertainment Weekly, the Versace family said of the upcoming series:
The Versace family has neither authorized nor had any involvement whatsoever in the forthcoming TV series about the death of Mr. Gianni Versace. Since Versace did not authorize the book on which it is partly based nor has it taken part in the writing of the screenplay, this TV series should only be considered as a work of fiction.
For her part, Penelope Cruz, who plays Donatella and is acquainted with the designer, asked for the real Donatella's blessing before accepting the role from Ryan Murphy. Cruz told Entertainment Weekly:
I did have one conversation that was very important for me and that was between she and I. I don't want to say the details but it was a long conversation. I needed a conversation with Ryan [Murphy] and then a conversation with her. That was very important to me. I think she knows that the way I'm playing her that I truly love her and respect her.
FX and 20th Century Fox stand by the show, calling Orth's reporting "meticulous" and the book upon which the series is based "heavily researched and authenticated." However, the Versace family also released a second statement, claiming that Orth's book is "full of gossip and speculation." Viewers will just have to see for themselves how they interpret the upcoming anthology.
You can catch The Assassination of Gianni Versace: American Crime Story Wednesday nights on FX.
Check out Romper's new video series, Romper's Doula Diaries:
Watch full episodes of Romper's Doula Diaries on Facebook Watch.