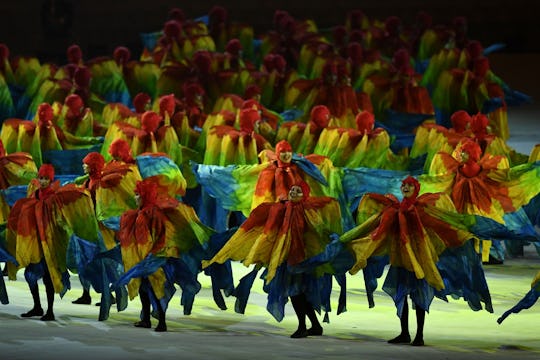 David Ramos/Getty Images Sport/Getty Images
What Is The "We Are Beautiful Creatures" Song From The Closing Ceremony? It Was Cheerful
As the Olympic closing ceremony kicked off in Rio, a bunch of dancers dressed as parrots emerged onto the stage for a peppy dance to a cheerful tune. For a lot of people, the song may have seemed a tad unfamiliar, so what exactly was the "We Are Beautiful Creatures" song from the Olympics' closing ceremony?
The tune was actually a track from Rio 2, a 2014 animated Blue Sky Studios movie about a fun-loving group of Amazonian creatures. (Well done with the wordplay, Olympic organizers, very well done.) The Rio 2 song is called "Beautiful Creatures" and is performed by Andy Garcia, Rita Moreno, and Barbatuques. It's a fitting song for both a kids' movie and the Olympics, with its unifying chorus, upbeat drumming, and Brazilian beat.
There's plenty of animated movies that come with their own soundtrack albums, but Rio 2 can pat itself on the back for getting primetime at the Olympic closing ceremony. Rio 2 was also designed as a musical animation from the get-go, according to Billboard, with many of its songs featuring in the film's pre-release trailers.
The songs were based on traditional Brazilian music, too, making them an ideal backdrop for the Olympic ceremonies. "We wanted to show the diversity of Brazilian music," executive producer Sergio Mendes told Billboard in 2014. As the soundtrack progressed and the movie's plot deepened, the songs became increasingly tribal, based on northern Brazil's folk music.
For those intrigued by the music of "Beautiful Creatures" during the Olympics' closing ceremonies, you can watch the full Rio 2 online at Amazon. Renting the movie will put you back only $3.99, or you can purchase the movie (to watch and re-watch with kids) for $8.99.
The original Rio is also available to rent or buy, and the first movie has its own soundtrack, as well, if you really want to get into the animated Rio spirit. (Reviews of the two soundtracks, however, make the Rio 2 playlist sound a bit more appealing, while reviews of the movie make Rio out to be the clear winner. Choose your entertainment options wisely.)
If you feel like reliving the Olympic spirit without any movie-watching, however, you can always head over to Spotify for the Rio 2 playlist and listen to "Beautiful Creatures" on its own there; alternatively, it's also available on Shazam and on iTunes. With its upbeat sound, positive message, and (now) Olympic associations, it's guaranteed to be a kid-friendly favorite.