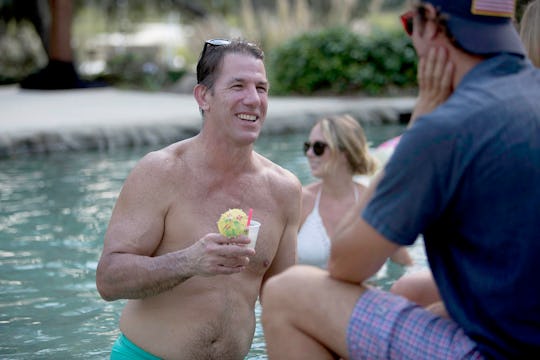 Brianna Stello/Bravo
T-Rav's Net Worth May Surprise 'Southern Charm' Fans
It's hard not to wonder about the Ravenal family when you're watching Southern Charm, especially since T-Rav is such a, well, a character. Although his family is basically an institution in Charleston, what exactly is Thomas Ravenel's net worth? His house is massive and he has his very own polo field, so he must be banking some serious dough, right? It might not be as much as you think, though. His father, Arthur, was a South Carolina congressman and Thomas is following in his footsteps — when he's not starring on a reality television show.
He reportedly sold another home for $3.3 million, which means he has a little cash. In addition to that, Ravenel was the state treasurer for one year, which doesn't pay all that much but it's not a terrible salary. The average is anywhere from $88,000 to around $200,000, so hopefully he invested some of that. He also tried to run for the South Carolina Senate in 2014 and while fundraising is key in politics, it helps to have some start up cash. He reportedly blew about $1 million on his failed bid and another few million on a few campaigns.
CelebrityNetWorth.com estimates that Ravel is worth $2 million and while that number may seem low for such an old school southern family, Ravenel's scandals might have cost him.
Before starting Southern Charm and working in commercial real estate, Ravenel did a 10-month prison stint for cocaine-related charges and had to pay $350,000 in fines. He also went to rehab, which can be pretty pricey after all. Sure, having a massive bridge named after his father makes it look like T-Rav has it made, but it's very likely that Southern Charm and some real estate deals — which are often more about spending money to make money — are his major sources of income.
But he still seems fairly well off. This season, it looks like T-Rav and Landon's friendship might cross the platonic lines and Kathryn has some feelings about it. After Landon took a dig at Kathryn for using her rehab stint to find romance (which is a pretty awful thing to say about someone in recovery), Kathryn said that she thinks Landon is just trying to snag a "rich husband." Kathryn said to Bravo, "it's sheer obviousness what her intentions are, and I think she projects those onto me."
Who knows who's actually gold-digging, but Kathryn has a lot of history with Tom and knows more about his finances than anyone else does because of the kids they have together. If she thinks he's still loaded, it's probably true. That is the way T-Rav rolls, after all.