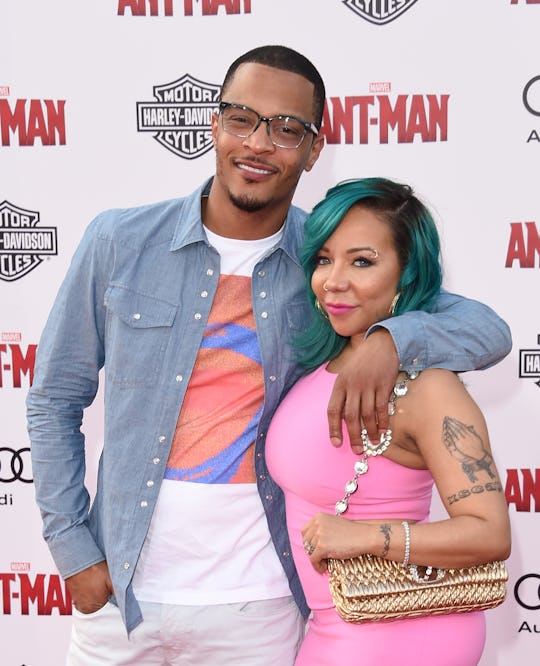 Jason Merritt/Getty Images Entertainment/Getty Images
What Is TI & Tiny's Daughter's Name? It's A Unique & Perfect Choice
Last week, rapper T.I. and his wife and R&B artist Tameka "Tiny" Harris gave birth to a beautiful baby girl. But while the announcement of their daughter's birth came quickly — in fact, the news was announced by "others," not T.I. or Tiny — her name remained a mystery. So what is Tiny and T.I.'s daughter's name? The good news is the couple spilled the beans just Monday — with T.I. posting on his Facebook page and Tiny sharing the news with her friends and fans via Instagram — but it's not what you might think.
The rapper shared a pic of him holding his daughter's car seat and wrote:
Welcome home Heiress!!! The ride begins … #FamilyHustleOverErrrthang.
While Tiny posted a photo of her hubby, T.I. giving his baby girl a bottle:
My newest Blessing! Heiress & her daddy.
That's right: the newest member of the Harris family is named Heiress (and, yes, according to BabyCenter it means exactly what you think — "a female heir, especially to great wealth"). And while some may see the name Heiress as unconventional and even arrogant, it has been rising in popularity the last couple of years and it is perfect for T.I. and Tiny, especially after their royal-themed baby shower just last month. (A shower that included jewel-encrusted baby slippers and one heck of a crown.)
Tiny shared more details about Heiress's arrival in a statement to People last week:
Yesterday, March 26th, at 2:58PM we welcomed a beautiful baby girl that weighed in at 5 lbs. In true Harris fashion, our baby girl made us all HUSTLE, making a surprise early entrance. While we expected her to arrive around April 20th, our PERFECT baby girl decided March 26th was the right time for her DEBUT.
My husband, Tip Harris, went from the stage right to the plane from his show in Las Vegas and luckily, made it to Atlanta with time to spare. Our whole clan was together to see our beautiful healthy baby girl make her way into the world. Just the way I like it!! We are looking forward to more exciting times with our #Lucky7.
This is the sixth child for 35-year-old T.I. and the fourth child for 40-year-old Tiny. The couple previously had two children together: 11-year-old Clifford "King" Joseph Harris III and 7-year-old Major Philant Harris, according to ET Online. T.I. is has two older sons, 15-year-old Messiah Ya'Majesty Harris and 14-year-old Domani Uriah Harris, and a daughter, 14-year-old Deyjah Imani Harris, from previous relationships. Tiny has an older daughter, Zonnique Jailee Pullins, from a previous relationship as well.
T.I. and Tiny were also pregnant with another child, Leyah Amore Harris, in 2007. Unfortunately, Tiny was forced to deliver her stillborn at six months.
While Tiny previously told ET Online her pregnancy with Heiress was "great," Tiny also shared this will be the couple's final child. So my advice: enjoy it, you two! And burn that damn diaper pail when you are good and ready.