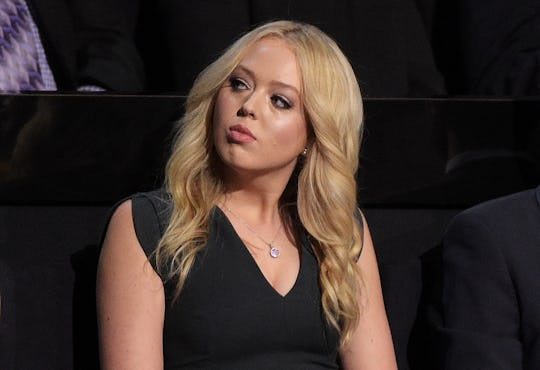 Jeff Swensen/Getty Images News/Getty Images
What Is Tiffany Trump's Job? She's Taken A Different Path Than Her Siblings
With so much talk about Ivanka Trump, it can be easy to forget that Republican presumptive presidential nominee Donald Trump has another daughter. In fact, the former reality star has five children. While it's well-known that Trump's three eldest children, Ivanka, Eric, and Donald, Jr. serve as executive vice presidents at their father's Trump Organization, Tiffany Trump's job, if she has one, is a mystery. During an April 2016 interview regarding her appearance on Dancing With the Stars, Tiffany's mother, Marla Maples, mentioned that her daughter had just had her first job interview, but didn't reveal the company name.
Although she graduated from the University of Pennsylvania in May, her Twitter bio still says that she's a student. Her father, sister, and one of her brothers all studied business at the University of Pennsylvania's Wharton School, but according to People, Tiffany majored in sociology and urban studies. She also interned at Vogue, though it's unclear what her duties were, other than lunching with Anna Wintour. Business Insider reported in 2015 that she also interned with Italian fashion conglomerate Aeffe, and she walked in a fashion show earlier this year, according to the Daily Mail, but that appears to have been a one-time favor for the designer, her childhood friend Andrew Warren. So far, her only business venture seems to be the time she released a single called "Like a Bird" in 2011, which Amazon classifies as pop. Based on the 30-second sample Amazon provided, however, I would classify it as a whisper-battle between a robot and a ghost.
Tiffany's name doesn't pop up in headlines too often, but the presidential race is changing that. If her name sounds vaguely familiar, it could be because she was the baby Donald Trump infamously objectified on a 1994 episode of Lifestyles of the Rich and Famous, which was recently unearthed by The Daily Show. When asked by host Robin Leach to describe how Tiffany took after her parents, her father said, "I think that she's got a lot of Marla. She's a really beautiful baby. She's got Marla's legs. We don't know whether or not she's got this part yet," he added while indicating breasts, "but time will tell."
Tiffany is perhaps best known for being a rich young lady with rich young friends, whose adventures she chronicles on her Instagram account, which functions as a de facto modern version of the show she debuted on so many years ago. The New York Times and New York Magazine have both profiled her gang of friends, known alternately as The Snap Pack and the Rich Kids of Instagram. It includes the aforementioned Warren, grandson of clothing manufacturer David Warren (and who, I'd be remiss not to mention, is still under the care of a full-time nanny at age 23); Kyra Kennedy, as in those Kennedys; Barron Hilton, as in those Hiltons; and Gaia Matisse, the great-great-granddaughter of artist Henri Matisse. Perhaps she doesn't have a job simply because she doesn't need one.