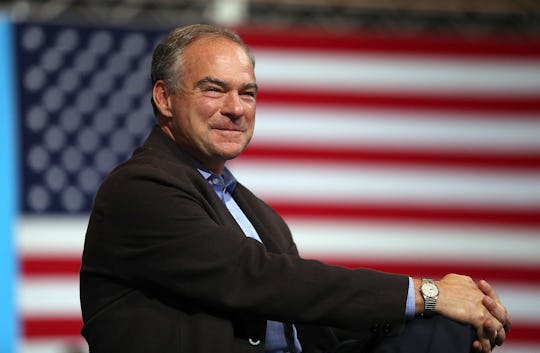 Justin Sullivan/Getty Images News/Getty Images
What Is Tim Kaine's Lapel Pin At The Vice Presidential Debate? It Honors His Son
On Tuesday night, at the vice presidential debate, Democratic vice presidential candidate Tim Kaine and Republican vice presidential candidate Mike Pence addressed a packed auditorium and the world to talk about their plans for the future of our country. As it's the only time the two will debate before the November presidential election, many are wondering what Tim Kaine's lapel pin at the vice presidential debate means? It's not an American flag, similar to the one that Pence wore on his lapel at the debate. So, what's it for?
Turns out, the pin is one Kaine wears frequently — and it's in honor of his son, who's serving overseas. Earlier this summer, Kaine wore the pin at a speaking event on the campaign trail and was later ridiculed by the North Carolina Republican Party for the "shameful" act of wearing the "Honduras flag pin on his jacket but no American flag," according to the Huffington Post. But Kaine isn't wearing the pin to support Honduras. In fact, the pin he's wearing is recognized by the Department of Defense for Blue Star Families, and he's wearing it because his son, Nat, is a U.S. Marines in the 2nd Battalion, 8th Marines unit. Nat is currently serving overseas, according to the Huffington Post.
Blue Star Families, according to its site, is an organization committed to bettering the lives of military families through career development, leading research on military family life, and caregiving. However, even though it's pretty clear why Kaine was wearing the pin, many assumed that Kaine was purposely not wearing an American flag pin.
Even though this tweet clears up what the pin is and why he's wearing it:
many jump to the worst-possible conclusion about Kaine's pin, without ever stopping to figure out what it might mean and why he might be wearing it:
If anything, Kaine's pin highlights the need to do your research. Kaine is very clearly vying for the vice presidency of the United States of America. He's not going to wear a North Korean pin or the flag of Honduras. He's on the stage this evening trying to appeal to the people who he hopes will come out and vote for Democratic presidential nominee Hillary Clinton in November. At the end of the day, Kaine's job tonight is to help get Clinton elected — why would he jeopardize that by wearing a pin that celebrates or calls out another nation? Answer: He wouldn't.
In an election rooted in "choosing a side," I can understand that people are quick to point out a potential lapse in patriotism in the other candidate's running mate. However, Kaine's pin is very much in honor of one of the most American traditions our country has ever known: Supporting, honor, and paying attention to the men and women who give up their freedom to protect ours. If anyone understands the depth of that sacrifice, it's Sen. Tim Kaine, whose son is serving bravely overseas.