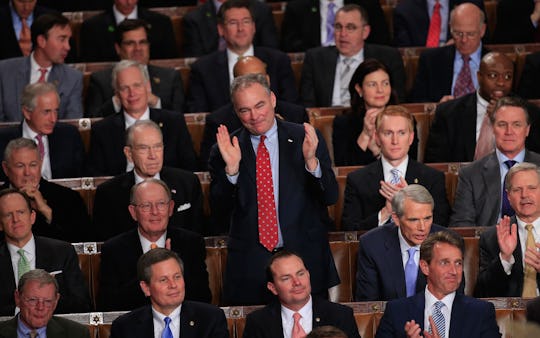 Rob Carr/Getty Images News/Getty Images
What Is Tim Kaine's Voting Record? The Potential VP Pick Is Guided By His Catholic Faith
A potential vice presidential candidate for Hillary Clinton, Virginia Sen. Tim Kaine has the reputation of being quite moderate. Kaine has been lauded as the "obvious vice presidential choice," given his background, his experience (he was former chairman of the DNC), and his close ties to a few key swing states. But what is Kaine's voting record, and does he really stand a good chance of winning the VP nod?
Residing in Richmond, Virginia, Kaine and his wife Anne Holton have three children. Kaine has earned a reputation for service as he once "lived in Honduras and helped run a Roman Catholic school with Jesuit missionaries," an experience in which he learned to Spanish fluently, further solidifying his potential as a valuable candidate.
Currently, CNN reports that Kaine is being considered against Massachusetts Sen. Elizabeth Warren and Ohio Sen. Sherrod Brown. Two current members of Obama's cabinet, Tom Vilsack and Tom Perez, are also in consideration. Housing Secretary Julian Castro and Rep. Xavier Beccara are also reportedly in the running, though to a less serious degree.
President Obama's 2008 campaign vetted Kaine and, while he obviously did not secure the position, it was reported that "nothing in Kaine's background raised red flags." As the majority of Americans don't trust Clinton, it's vital that her VP is seen as honest and straightforward, unwavering in their views. This is where Kaine's record comes into play.
A self-described "traditional Catholic," Kaine's religious and political views are often presented as conflicting ideologies, especially regarding abortion. Though he personally disagrees with the practice, Kaine supports a woman's right to choose. In 2015, Kaine voted against a bill that prohibited "abortion on a woman after 20 weeks of pregnancy, except in certain cases of medical emergency, rape, or incest." The bill did not pass and Kaine remarked that "Nothing in my Catholic faith suggests that I should support legislation that violates the Constitution."
Recently, in the wake of the Orlando shooting, Kaine supported an amendment to reduce gun violence in efforts to "to prevent known or suspected terrorists from purchasing guns and to subject all private gun sales to background checks." The amendment failed.
Kaine opposed the Keystone XL Pipeline, remarking in a statement that our country should "generate energy cleaner tomorrow than we do today." Clinton voiced her rejection of the pipeline, too, after a near 5-year period of vague indecision. (You can look through Kaine's entire voting record here.)
As his potential for vice presidential candidacy heightens, Kaine presents himself as a solid, consistent option. "I am boring," Kaine asserted, "but boring is the fastest-growing demographic in this country." In an era where the American public is fed up with outrageous election-year energy, he might be spot on.