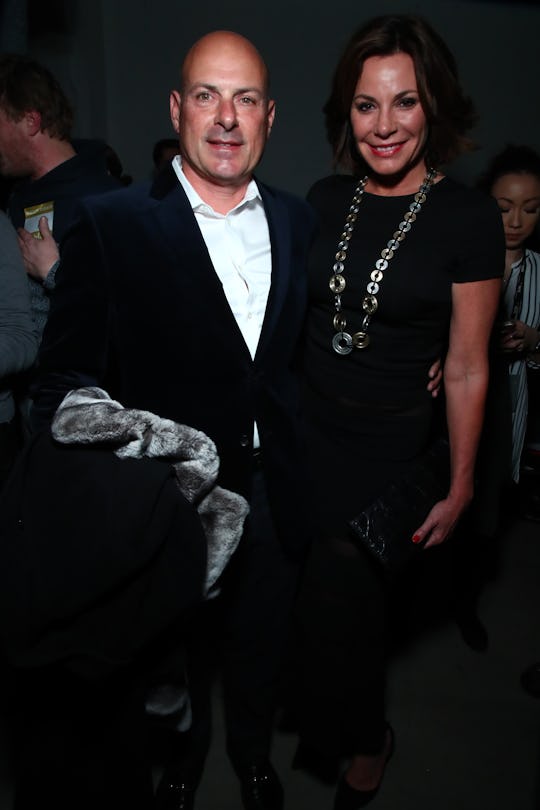 Astrid Stawiarz/Getty Images Entertainment/Getty Images
Tom D'Agostino Hasn't Stayed Entirely Out Of The Spotlight Since His 'RHONY' Days
When The Real Housewives of Beverly Hills returns for its tenth season on April 4, audiences will get to catch up on everything Luann de Lesseps has been getting up to since her divorce from Tom D'Agostino. But her ex isn't a part of the cast, which means curious viewers will have to look elsewhere to find out how he's spent the time since the split. So what is Tom D'Agostino doing now?
Tom doesn't have the social media presence that Luann does, which makes it a little more difficult to find out exactly how he's been passing his time. However, just because Tom steers clear of Twitter and Instagram doesn't mean he's been entirely out of the spotlight. In February of this year, Page Six reported that Tom had gotten into a little scuffle in Palm Beach with an old business partner that resulted in drinks being thrown like something out of a Real Housewives get-together.
Though Page Six initially claimed that an investigation was going to follow the altercation, it doesn't seem as though that is actually the case. It was specified that no charges were going to be pressed, and Tom cleared things up further in a conversation with E! News.
First a source elaborated on exactly what happened during the confrontation at the Palm Beach restaurant Cucina. The anonymous insider explained:
A ton of people were there and saw what happened. A man that is known around town went over and put his hands on Tom's girlfriend. Tom intervened and drinks were thrown by both Tom and the man.
Tom seemed to confirm that chain of events with his own statement to E! News about the matter. "Chivalry is not dead," he said. "I was protecting my girlfriend. The only thing I regret is spilling a very good martini."
Definitions of chivalry aside, the RHONY-worthy drink-tossing isn't the only notable thing Tom has been up to in the last few months. He has also been spotting dining out in London with girlfriend Anna Rothschild, who may or may not be the woman involved in the Cucina debacle. That's unclear, though it seems as if Tom and Rothschild have been together for several months.
Though there were rumors of an engagement between Rothschild and Tom due to an expensive ring she had begun wearing, she told the Daily Mail that they were not engaged. However, she didn't rule out the possibility entirely, going on to say:
I would love to marry him because he's such a great guy, maybe one of the most amazing men I've ever met, but the timing isn't right for us at the moment.
Tom had previously released a statement about his brief marriage to Luann immediately following the announcement, telling E! News:
I fell in love, got married quickly and am very sad that two people in love are not together. The publicized reasons for the divorce make for a great Reality TV story line. I wish Luann much happiness and love.
He continued to express his disappointment to Us Weekly, saying, "There was real love lost here," before reiterating that he was "saddened" and wished Luann "only the best." It doesn't seem as though Tom has commented again about their relationship, but fans can probably expect more details about the breakup to surface during RHONY's tenth season as Luann opens up about what happened.
Meanwhile, it appears as though Tom is continuing with his life in the wake of the divorce, though he definitely picked up a tip or two from his time with a Real Housewife. Those martinis don't just spill themselves.
Check out Romper's new video series, Romper's Doula Diaries:
Watch full episodes of Romper's Doula Diaries on Facebook Watch.