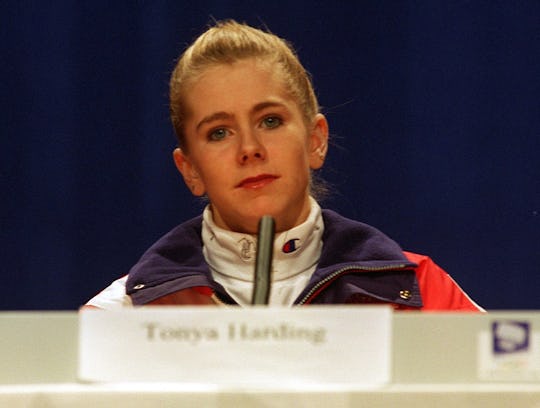 Phil Cole/Getty Images Sport/Getty Images
Tonya Harding's Net Worth May Surprise You
When Season 26 of Dancing with the Stars premieres on Monday, April 30, Tonya Harding will be one of the contestants going after the big prize. It's been some time since audiences have seen Harding in a competitive setting, and they might be wondering how her career has been since her ex-husband's 1994 arranged attack on Nancy Kerrigan resulted in Harding being banned from skating. How has she been supporting herself in the interim? And what is Tonya Harding's net worth?
Several sites speculate that Harding's net worth is around $30,000, though Celebs Net Worth Today goes as high as $60,000 in their guess. Harding started ice skating as a child, which led her to the competition circuit. After being banned, however, she tried several different careers, including music, acting, and televised boxing. According to Coed, one of the sites that lists her net worth as $30k, Harding even attempted racing for a brief time.
Appearance fees and winnings from her various athletic endeavors may have contributed to Harding's net worth, but Gazette Review pointed out that skating is not particularly lucrative as a career. Coaching and costumes may have cost Harding more than she earned, though any endorsement deals could have buoyed her funds as well (however, Time made it clear that Harding's deals evaporated after Kerrigan's attack).
It's unclear how much money Harding saw during her brief tenure as a musician with the band Golden Blades, but it seems unlikely that it was significant. A 1995 article in People described how unsuccessful one Portland gig was, saying the crowd "jeered and tossed soda bottles onto the stage, forcing the Blades to beat a retreat."
Celebs Net Worth Today explained that Harding transitioned into boxing in 2002. She became the manager of Los Gringos Locos of AAA Wrestling, and participated in matches herself for a couple of years. She quit because her longtime asthma made the activity difficult, though Harding also wasn't a huge fan of the sport according to an interview with The New York Times.
The same Times article reported that Harding had worked plenty of odd jobs unconnected to the world of athletics: she'd been a welder, a painter at a metal fabrication company, and a sales clerk at Sears. She popped up in the 1996 film Breakaway and was a commentator on the show The Smoking Gun Presents: World's Dumbest... Harding earned $1,500 optioning her story for I, Tonya, "with more if the film actually got made and recouped its costs."
All of those things impacted Harding's net worth over the years, and marriages could have had an effect as well depending on how much money her partners were bringing into the home. After divorcing Jeff Gillooly in 1993, Harding was married to Michael Smith for a year; in 2010 she married Joseph Jens Price, whom she is still with. They have a son, and have lived quietly in Washington until the success of I, Tonya renewed public interest in Harding.
Oregon Live mentioned that Price's career involved woodworking, which seems to line up with the more private life Harding has had since her skating heyday. In a statement to Town & Country, Harding's spokesperson said that she received a percentage of the profits from I, Tonya and has also done landscaping and deck-building work in addition to raising her son.
Harding's net worth could go up in the next few years now that she's receiving more publicity and taking on more interviews and appearances. But right now, though technically unconfirmed, it appears to reflect the relatively normal life she's had over the last 20 years.
Check out Romper's new video series, Romper's Doula Diaries:
Watch full episodes of Romper's Doula Diaries on Facebook Watch.