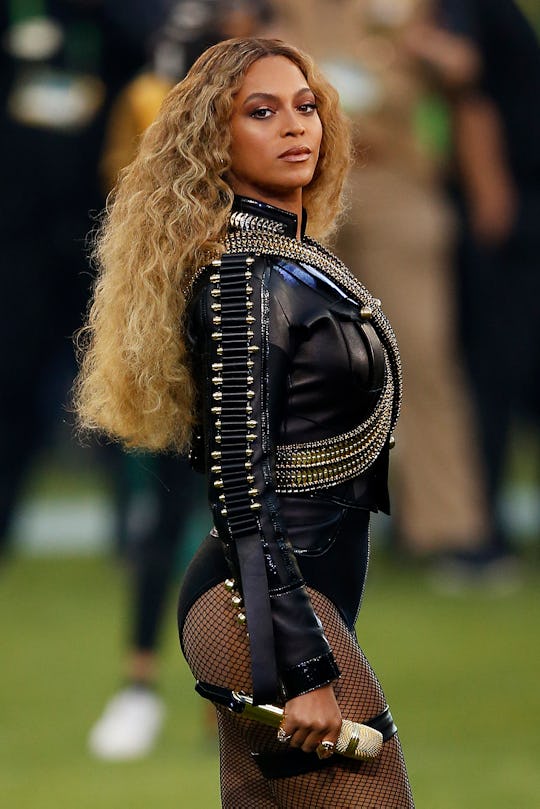 Ezra Shaw/Getty Images Sport/Getty Images
Beyoncé Opened Up About This Scary Pregnancy Complication She Faced With The Twins
It's hard to believe Beyoncé could make us fall more in love with her, but the woman has done it again. In an essay for Vogue, the superstar got real about her body, children, and her life journey. She also revealed her struggle with toxemia, a pregnancy complication that had her on bed rest for a solid month before she gave birth to her and JAY-Z's adorable twins, Rumi and Sir.
Carrying twins is hard on anyone and Beyoncé wrote for Vogue that the day she delivered Rumi and Sir in June 2017, her body had swollen to 218 pounds. Her — and the babies' — health was in danger, resulting in an emergency C-section that, she learned, creates some fundamental body changes, as she wrote for Vogue. "My core felt different," she wrote in her essay. "Some of your organs are shifted temporarily, and in rare cases, removed temporarily during delivery… I needed time to heal, to recover."
The condition that created such trouble surrounding her pregnancy was toxemia, which you may have more commonly heard called preeclampsia, according to Merriam Webster. "I was swollen from toxemia," Beyoncé shared with Vogue. Symptoms of toxemia include high blood-pressure, swelling, headaches, and visual problems, as explained by Merriam Webster. Additionally, Refinery 29 reported that people used to believe a toxin was the cause of preeclampsia, thus the toxemia label, but doctors now know that is not the issue.
About 5 to 10 percent of pregnant women develop preeclampsia, according to Healthline. The risk of preeclampsia is higher for women who are carrying multiple babies, according to the Mayo Clinic, as Beyoncé was with Rumi and Sir. Other risk factors can include a history of high-blood pressure, first pregnancy, obesity, age of the mom, as well as having a baby with a new partner, as noted by the Mayo Clinic. Because blood pressure affects the arteries that deliver blood to the fetus, high blood-pressure can restrict blood flow, reducing the oxygen and nutrients being delivered to the baby, according to the Mayo Clinic, which also noted that the only solution for the condition is delivery. So the earlier in the pregnancy that the condition develops, the more difficult it is to manage.
You might recall that Kim Kardashian West also battled preeclampsia during her pregnancies, according to SELF. It was responsible, in part, for her and her husband's choice to explore surrogacy for their third child.
According to a timeline created by Harper's Bazaar, Beyonce was pretty active throughout her pregnancy, posting on Instagram all the way up until May 30. She then disappeared for several weeks, leading people to wonder if she'd already delivered her twins. This may have been the period when she was on bed rest. After the twins were born, she wrote in Vogue that they spent "many weeks" in the NICU while she herself was trying to work her way back to health. As she wrote for Vogue:
My husband [Jay-Z] was a soldier and such a strong support system for me. I am proud to have been a witness to his strength and evolution as a man, a best friend, and a father. I was in survival mode and did not grasp it all until months later.
Perhaps most importantly, post-delivery she accepted what her body was and "embraced being curvier." She waited about six months before starting to get back into performance shape for Coachella, according to Vogue, but even then, she wrote, "I was patient with myself and enjoyed my fuller curves. My kids and husband did too."
She even went on to celebrate her "mommy pouch," saying that when she's ready for six-pack abs again, she'll kick things up and get into beast mode. "But right now, my little FUPA and I feel like we are meant to be." FUPA is slang for "fat upper pubic area", according to E! News, and Twitter has gone wild with enjoyment of the singer's body positivity.
This woman just keeps blowing our minds. She also wrote that because she feels the value of everyone — women and men — and appreciating the beauty of their natural bodies, she went into this Vogue photo shoot without extensions and wigs and requested less makeup. If it's possible, she's more gorgeous than ever.
Needless to say, the world is beyond thankful Bey came through this tough pregnancy even more fabulous than she went into it, and that now she's sharing her experience with the world in this way.