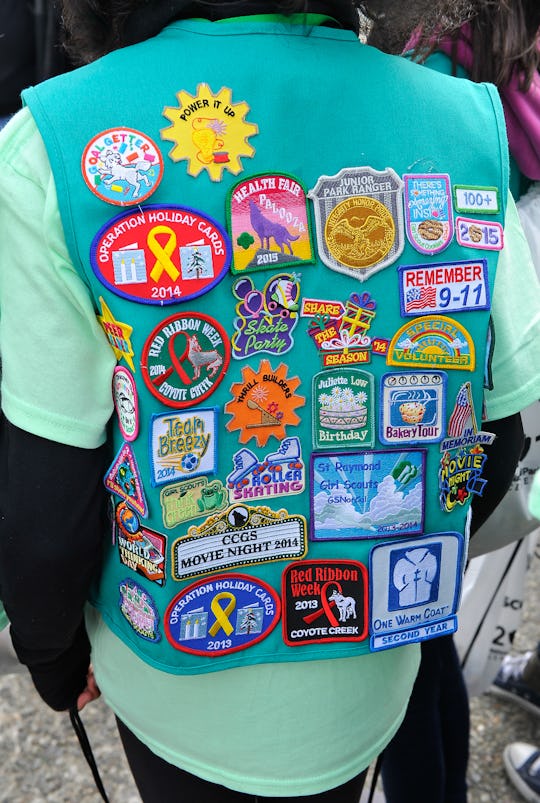 Steve Jennings/Getty Images Entertainment/Getty Images
This Homeless Girl Scout Troop Is Doing Amazing Things
Watch out, New York City: The Girl Scouts have added a new troop to their ranks, and these girls are breaking ground in a positive way. Troop 6000 is New York's first Girl Scouts group for homeless girls, and it provides an opportunity for girls living in a Queens shelter to learn leadership skills, foster friendships, and go on field trips. It's also serving as inspiration: According to The New York Times, New York City's social services commissioner is already in talks with the Girl Scouts to expand into other shelters.
The girls in Troop 6000 all currently live in a Sleep Inn-turned-shelter in Queens, where 155 of the 287 people housed there are under 18 years old. Troop 6000 was created thanks to a collaboration between New York's homeless services department, a councilman in Queens, and a mom who works as community engagement specialist for the Girl Scouts — and also happens to live in Queen's Sleep Inn. The Girl Scouts of Greater New York cover all fees for the girls in Troop 6000, a team of just over 20 scouts now.
Troop 6000 fills a much-needed gap for homeless youth. About 40 percent of New York's shelter population of 60,000 are children, and homelessness places a huge burden on children. Families are often placed in shelters far from their own communities, forcing kids to commute to school and live away from friends and support systems.
"Any time a child is moved it can feel to that child like a death because it's so traumatic," educator Yanira Rodriguez told KPCC in 2015. According to Psychology Today, moving — especially when it's caused by family hardships, such as job losses or poverty — is a significant stressor for many children. However, involvement in healthy, social routines and processes can help kids hold onto a semblance of stability during turbulent times for their families.
The Girl Scouts and other programs — which can include mentoring, like Stand Up For Kids' programs and Big Brothers Big Sisters, or social support and therapy — offer structure, stability, and a social group for children in shelters. That support can provide a welcome break from an often stressful situation, and help craft community in an environment that's not always welcoming, considering many shelters have curfews and visitor restrictions in place.
If you'd like to support Troop 6000 and the Girl Scouts' other shelter groups, you can donate at the Girls Scouts of Greater New York's website or spread the word about the program — because more homeless girls deserve the kind of support Troop 6000 offers.