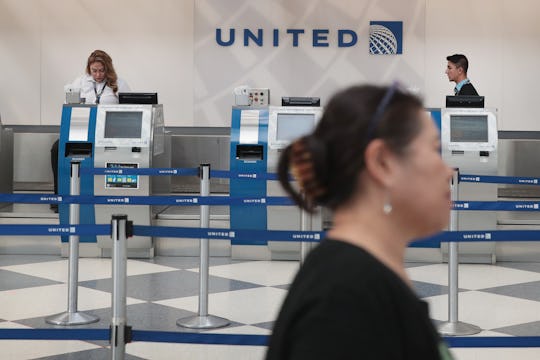 Scott Olson/Getty Images News/Getty Images
United Has A New Overbooked Flight Policy
The last few weeks have not been good for United Airlines. The Chicago-based company has been flanked by scandals. Among other incidents, United had come under intense fire earlier this month after a video showing a passenger being pulled out of his seat and dragged off of an overbooked flight went viral. The company launched an investigation into the incident and, on Thursday, released the results, along with a list of policy changes. So what is United's new overbooked flight policy? The airline company promises to reduce overbooking and offer up for more cash to passengers bumped from a flight.
United rewrote its policy to address the systematic failures that led to the April 9 incident that saw Dr. David Dao being forcibly removed from an overbooked flight bound for Louisville. According to CNBC, United will implement 10 key policy changes including, but not limited to, offering passengers up to $10,000 to give up their seats on an overbooked flight, reducing the amount of overbooking (particularly on last flights of the day), and providing annual training for gate agents on procedures and customer services. Many of the policy changes will go into effect Friday. United has already implemented some others, according to CNBC.
United Airlines CEO Oscar Munoz said in a statement obtained by the Chicago Tribune,
Every customer deserves to be treated with the highest levels of service and the deepest sense of dignity and respect. Two weeks ago, we failed to meet that standard and we profoundly apologize. However, actions speak louder than words. Today, we are taking concrete, meaningful action to make things right and ensure nothing like this ever happens again.
United Airlines announced its policy changes Thursday as part of an 11-page review and action report detailing the results of its investigation into the April 9 incident. According to The Wall Street Journal, United has concluded that a breakdown in customer service, training, technology, and safety and security procedures led to Dao being dragged off of the commuter flight. Some of the failures cited in the report include a lack of regular training to prepare staff for denied boarding situations and customer interactions, as well as "calling on law enforcement to assist with policy enforcement when a security or safety issue didn't exist."
Munoz said in an interview with the Wall Street Journal that Dao's forcible removal from United Express Flight 3411 was "a failure of epic proportions that's grown to this breach of public trust." He continued,
We let our policies and procedures get in the way of doing the right thing.
As for who should be held accountable for what happened earlier this month, Munoz took full blame. He told WSJ,
Things happened in so many places, there was no particular breakdown I can't and shouldn't take ownership of.
Policy changes aren't only being made on the ground. According to the Los Angeles Times, United Continental, United Airlines' parent company, also plans to weigh customer satisfaction levels when determining bonuses for executives. Currently, bonuses are based solely on "profits and operational achievements," the LA Times reported.
On paper, United's new rules seem like a step in the right direction. But whether the airline will actually improve customer service is up in the air. After all, United Airlines has been at the center of other controversies; earlier this week, for example, the company came under fire after a 10-month-old giant bunny died on one of its international flights.
Meaningful change doesn't happen just by rewriting an existing policy. For the sake of people and animals everywhere, let's hope that these changes will be meaningful.