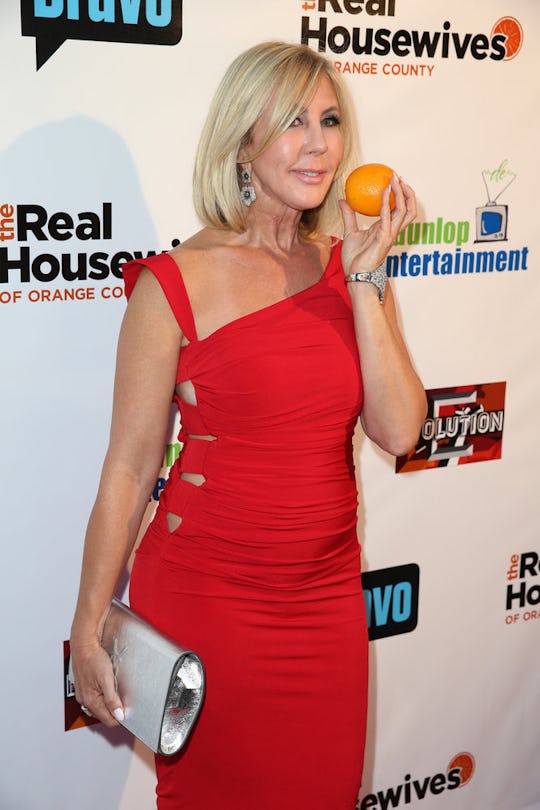 Joe Scarnici/Bravo
What Is Vicki Gunvalson's Net Worth? She's Built Herself A Small Fortune
The Real Housewives have all but taken over the Bravo network, and it all started with The Real Housewives of Orange County. The only cast member left to have been with the franchise since its inception is Vicki Gunvalson, the self-described "OG of the OC." Famous for her tendency toward melodrama, Vicki was one of the first women to let us take a look into her insanely privileged life with the show. Her fame and influence have only grown over the past 10 years of the show, so I've got to wonder, what is Vicki Gunvalson's net worth today?
Most estimates, including from Celebrity Net Worth, which is not always accurate, put her net worth at around $7 million. Not bad. She sometimes comes across like a Fifth Harmony song with her constant refrain of "work, work, work, work, work," which is how she's made her millions. And her insurance company is just part of the equation. Vicki is the president and co-founder of Coto Insurance and Financial Services and the author of the book, More Than a Housewife. She is also paid for speaking engagements, Instagram product endorsements, and of course for her work on The Real Housewives of Orange County.
A large part of her wealth is due to her Real Housewives salary, which is reported to be $500,000 per season. While $500,000 per year is quite enough for anyone to live in perfect comfort, it is still around half of the reported earnings of some Housewives from other cities, including Bethenny Frankel of The Real Housewives of New York City, NeNe Leakes of The Real Housewives of Atlanta, and Teresa Giudice of The Real Housewives of New Jersey.
As the franchise's longest running star, it would be logical to assume that Vicki would be taking home the highest paycheck. However, some other factors may have come into play which explains some other women's higher salaries. While Vicki has shown basically no signs of ever leaving the Housewives, Bethenny and NeNe have both left the show at some point, and then returned. It's a definite possibility that they had to be wooed back into the fold to some extent, and an extraordinary paycheck would certainly help. If Vicki were to attempt to leave the Housewives, could she negotiate a salary comparable to these women? Perhaps, but in the meanwhile it looks like her Love Tank is full, and so is her bank account, thank you very much.