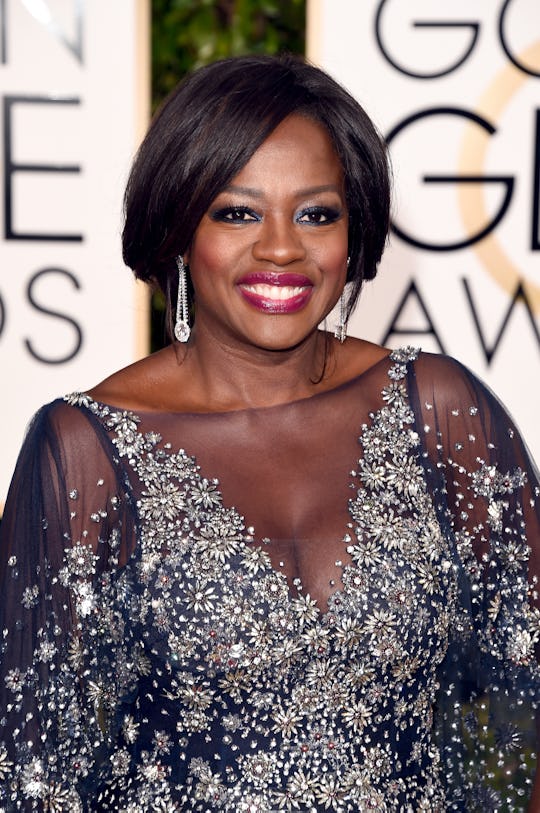 What Is Viola Davis Wearing To The Golden Globes This Year? Her Gown Was A Stunner
The year 2015 was a big one for actress Viola Davis. Between winning her first primetime Emmy Award for her role as quick-thinking, thick-skinned law professor and defense attorney Annalise Keating — a role for which she was nominated again at Sunday's Golden Globes — and invigorating the entertainment industry with her fresh outlook on diversity in the media, the 50-year-old actress has been making headlines galore. Once everyone got a glimpse of what Viola Davis was wearing to the Golden Globes this year, it was pretty much a guarantee that she'd be making headlines again.
Davis teased her stunning deep blue, scoop-back, bejeweled Marchesa dress in an interview with People on Friday last week, explaining that she was especially excited to show it off (which she totally should have been, let's be honest). "It's very glamour," Davis told the entertainment outlet, explaining that her pick was "totally different" than any dress she had donned before. "High glamour" indeed.
Davis admitted that she was a little nervous about actually answering questions regarding her dress. "I just liked it. I'm terrible with style questions. I have to tell you. I'm horrific," she joked. "[But] I think [the dress] is really nice. I feel like it complements me. I feel comfortable in it. I feel pretty in it." Um, yeah she did. Just look at her:
As one Twitter user wisely commented, "Viola Davis, tell me how you got away with murdering me with this look?" Seriously, Davis — you didn't just murder in this look, you slayed it.
Images: Jason Merritt/Getty Images