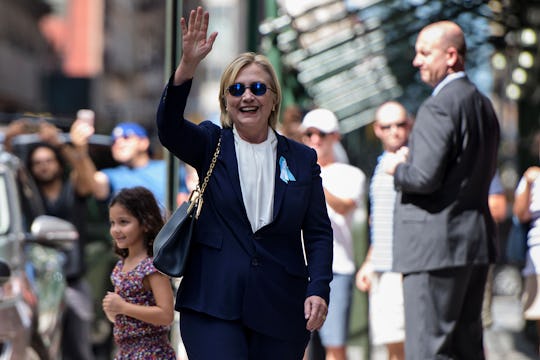 BRENDAN SMIALOWSKI/AFP/Getty Images
What Is Walking Pneumonia? Hillary Clinton Was Diagnosed By Her Doctor
On Sunday morning during a Sept. 11 memorial service in New York, Democratic presidential nominee Hillary Clinton's departure sparked speculation on the status of the former Secretary of State's health. According to NBC News, Clinton's doctor, Dr. Lisa Bardack, later released a statement explaining that Clinton was diagnosed with pneumonia, leading several outlets to speculate that it was actually something called "walking pneumonia," as Clinton had partaken in several events in the days since her diagnosis. So, what is walking pneumonia? According to the CDC, it's a mild illness that occurs when infections build up in the lungs.
In photos and video clips circulating social media, Clinton can be seen apparently struggling to walk to a vehicle, while simultaneously being propped up by an aide. BuzzFeed spoke to Zdenek Gazda, the bystander who filmed Clinton's wobbly gait and later posted a video of the presidential nominee to social media. Gazda's video has now been shared more than 36,000 times on Twitter since Sunday.
"I take two pictures before she passed me," Gazda said according to BuzzFeed. "She looked like everything was fine and everything was good." He continued,"I just saw the Secretary waiting for the van and the van came and she can't walk inside and she gets helped... she lost her shoe and everything."
A spokesperson for Clinton's campaign, Nick Merrill, told reporters on Sunday that Clinton "felt overheated," BuzzFeed reported. Merrill later released a statement explaining that Clinton left an hour and 30 minutes into the ceremony to go rest up at her daughter Chelsea's apartment in Manhattan.
Clinton's health had been a topic of discussion on the campaign trail prior to Sunday's incident. Earlier this month, conversations surrounding her wellbeing were sparked after she suffered a coughing fit during a campaign speech in Cleveland, Ohio. And back in August, Republican presidential nominee Donald Trump notably and memorably asserted that Clinton lacked the "physical stamina to take on ISIS," as The Washington Post reported.
Clinton's doctor later reiterated in a statement on Sunday that the former Secretary of State was re-hydrated and "recovering nicely":
Secretary Clinton has been experiencing a cough related to allergies. On Friday, during follow up evaluation of her prolonged cough, she was diagnosed with pneumonia. She was put on antibiotics, and advised to rest and modify her schedule. While at this morning's event, she became overheated and dehydrated. I have just examined her and she is now re-hydrated and recovering nicely.
According to CNN, Clinton reportedly canceled a trip to California, as well a number of fundraisers and television appearances, due to her pneumonia. On Monday, Trump wished his opponent well on Fox News show Fox and Friends, but Trump's surprisingly careful response hasn't stopped the Hillary Clinton conspiracy theories surrounding her health from running rampant regardless.
Only time will tell how Sunday's incidents affects voters who have expressed concerns about Clinton's health. In the meantime, the remainder of voters are undoubtedly busy prepping for the Clinton-Trump debate showdown at the end of the month, and ready to move on to bigger topics.